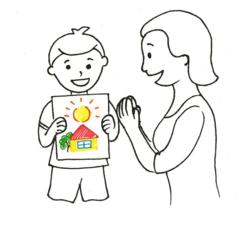 You know your child better, but you might get surprised to see your child's ingenuity. Set them free to let their imagination spread wings
Somerset, New Jersey (PRWEB) April 27, 2013
Special Competition For Special Children is being held on WebTeam's portal to increase autism awareness with help of parents, teachers and caregivers. The format of the contest encourages parents and teachers of individuals on the spectrum to submit their sketches that, together with the names and photographs of the participants, will be displayed on the iLearnNEarn portal.
The winner will receive an iTouch whereas the first and the second runner-up will get a certificate and a small token of appreciation respectively from Team iLearnNEarn. Sketches of the other participants will also be up for display. According to the format, all sketches should thematically match the iLearnNEarn2 concept. All the artwork submitted to the competition will be also used in the iLearnNEarn app series for teaching children with Autism.
"A majority of autistic individuals experience difficulties in verbally communicating their thoughts and needs. But almost all of them have prodigal talents when it comes to expressing themselves non-verbally. Mediums such as art, science and mathematics have always been appealing to the autism population at large, and we intend to acknowledge their creative edge by hosting these types of online competitions for children with autism," said Nipul Parikh, member of Team iLearnNEarn at WebTeam.
"Childhood is the time of sanctity and at the same time, the time to learn how to become independent. On understanding the innate nature of special children, WebTeam Corporation has launched this competition where children can paint their imagination and feel the satisfaction of creating their worlds. For parents, everything depends on a new opportunity… An opportunity to live after emotional turmoil; an opportunity to get up after struggle, and an opportunity to be successful after experiencing lots of challenges everyday. I'd like to request parents to allow their child to be at their creative best. You know your child better, but you might get surprised to see your child's ingenuity. Set them free to let their imagination spread wings," said Neha Dubey, conceptualizer of the competition and member of Team iLearnNEarn.
In the month of April, which is globally recognized as Autism Awareness Month, WebTeam is exploring crowd-funding portal RocketHub to develop the next edition of iLearnNEarn Series of Apps for Autism. The company is looking for support from the global autism community, especially from parents, teachers, professionals, and experts.
About WebTeam Corporation
Housed in Somerset, New Jersey, WebTeam Corporation is an app development organization working with parents, educators and experts involved with the autism community globally. The journey of WebTeam began in 2007 when 4 children aged 7-13 were given a summer assignment by parents to create animated characters whose goal was to establish peace, harmony and happiness in the universe. Following the success of the after-school program, S.H.A.N.E.S.H. came into existence, marking the beginning of a remarkable journey that witnessed independent ventures as well as expert collaborations, resulting in development of 150+ apps for Android, NOOK and iOS marketplaces.
The S.H.A.N.E.S.H. approach applied to special needs education gave birth to Colors Program which was pilot run at a few schools in the NJ and NY area.