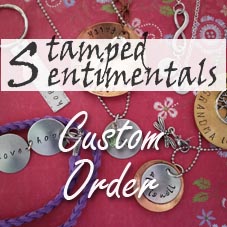 I love my Hand Stamped necklace. It is unique and personalized just for me.
Senoia, GA (PRWEB) April 17, 2013
Stamped Sentimentals, LLC a leading provider of custom design handmade jewelry for consumers, recently launched their new website, which gives customers the ability to custom design jewelry to fit their needs. They also provide free jewelry design consultation to help customers determine what is perfect for them.
"I love my hand stamped necklace. It is unique and personalized just for me", said Wendy, a Stamped Sentimentals customer.
According to Zach Holt, Stamped Sentimentals Manager of Marketing & Sales, handmade jewelry is becoming very popular because it provides a much more personal touch and gives people the ability to design a keepsake that can help preserve memories and display standards and values that have deep meaning.
Designing hand stamped jewelry is a great avenue for people to explore their creative side. Consulting with design specialists, browsing design ideas and pondering powerful statements gets those creative juices flowing and people find a creativity that produces jewelry that comes from the heart.
Need jewelry design ideas? Visit their handmade jewelry design gallery.
About Stamped Sentimentals, LLC.
StampedSentimentals.com offers many different types of fashionable handmade jewelry including statement necklaces, charm bracelets, personalized keychains, and rings. They also provide multiple Collections such as their True Love Collection, Family Collection and Mother's Day Collection.