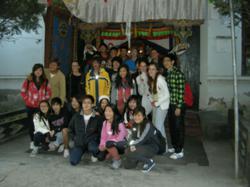 Special budget Tibet tours for students are available now! www.Tibetctrip.com offers full solutions for student's budget travel in Tibet.
(PRWEB) May 04, 2013
Travel in Tibet is a great way for students to take a break from studying while gaining a global perspective that can help them stand out in an increasingly competitive market for jobs after graduation. Tibet Ctrip Travel Service-TCTS (http://www.tibetctrip.com) has experience operating tours that provide students with opportunities to enjoy Tibet's stunning landscapes while learning about Tibetan culture and history. Frequently, students travel on a budget; TCTS works to minimize travel expenses by matching small groups with similar itineraries, cutting costs per person while still maintaining the comfort and flexibility of a private tour. Whether student travel groups plan to focus on culture, nature, or a blend of both, TCTS can help organize an unforgettable tour of Tibet.
Culture-focused tours: TCTS offers culture-focused tours that suit a wide variety of schedules and budgets. Students who are traveling across Asia in a short amount of time need not skip Tibet; in as little as four days, travel groups can visit world-famous cultural sites such as Jokhang Temple, Potala Palace, and Sera Monastery. Those with more time on their hands will enjoy a visit to Tsetang, located in Yarlung Valley (cradle of Tibetan Civilization), or Shigatse, Tibet's second largest city.
Nature-focused tours: Tibet is a fantastic adventure travel destination. TCTS can organize tours that include trekking or mountain biking. Trekking tours offered by TCTS include the Everest Base Camp Trek, Mt. Kailash Pilgrimage, and the trek from Ganden to Samye Monastery. Mountain bikers seeking an extensive journey can even bike from Lhasa to Kathmandu! Traveling students will enjoy the scenery while learning about the significance of Tibet's geography. The Himalayas, for example, help bring the monsoon rains to southern Asia and are the source of rivers such as the Yellow, Yangtse, and Mekong.
Tibet student tours allow students to learn about its history, become introduced to local culture, and take in fantastic mountain landscapes while learning about their important geographical features. Not to mention, take a much needed break from studying. TCTS prefers to keep travel groups small, maintaining the comfort and flexibility of a private tour and also allowing for students to learn more from their native Tibetan guide. Summer in Tibet is rapidly approaching; travelers are advised to plan in advance and book their tour as soon as possible.