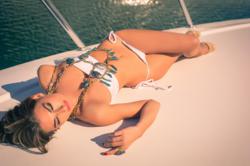 It's an honor to feature my swimwear collection among such established designers as Bettina Duncan. I couldn't be more excited to be a part of the Fred Segal community.
Los Angeles, CA (PRWEB) April 08, 2013
Marina del Rey, CA resident and fashion designer Joanna Kinsman recently launched her online swim boutique, (http://MissKinsman.com), consisting of a signature collection of mix and match lingerie-inspired bikinis.
The virtual doors to the Miss Kinsman SWIM shop opened this past fall, marking the first time the luxurious line has been available to the public for purchase. Miss Kinsman has been growing popular ever since, and now coming up on its first official summer, the Miss Kinsman SWIM line has been made available at the prestigious Fred Segal in Santa Monica, CA.
The infamous retail location is perfect for the growth of the Miss Kinsman collection. Fred Segal is synonymous with what's essential and ultimately trending in fashion, and Miss Kinsman is a must-have for anyone who craves a timeless, chic look, whether it be poolside or exclusively resort.
Designer swimwear fanatics can find the unique collection at the Bettina Duncan shop inside Fred Segal located at 500 Broadway in Santa Monica, as well as Bettina Duncan's new Brentwood location at 11677 San Vicente Blvd. in Los Angeles 90049.
Bettina Duncan is a jewelry and watch specialist whose fabulous designs are also on display in her upscale stores. The eloquent pieces of Miss Kinsman are the perfect designs to compliment the looks of Duncan and alike designers featured in Fred Segal. When asked about Miss Kinsman being sold at these high-end locations, the company's founder Joanna commented, "It's an honor to feature my 2013 swimwear collection among such established designers as Bettina Duncan. I couldn't be more excited to be a part of the Fred Segal community."
Miss Kinsman SWIM is designed with close attention to each detail, including flattering Brazilian as well as its new, more modest low-rise bottoms. The line boasts stylish silhouettes adorned with ruffles and lace covered strings for a very new take on swimwear. Regarding the future of Miss Kinsman in retail Joanna explains, "The Miss Kinsman Lingerie SWIM Collection will continue to be made available each season, adding and removing silhouettes to allow our buyers to mix and match to their desired look." We look forward to seeing what the brand will come out with next. Miss Kinsman is just getting started.
Be sure to visit Bettina Duncan at Fred Segal Santa Monica or Brentwood to shop the latest 2103 Miss Kinsman looks for the perfected blend of poolside sophistication and luxury. To view the entire collection visit MissKinsman.com where you'll find the most fitting and memorable looks for your resort getaway or beach excursion. Join the newsletter to learn about our upcoming runway shows.
For more information contact:
Joanna Kinsman
(213)290-3776
PO Box 555122
Los Angeles, CA 90055
About:
Miss Kinsman Designer Swimwear is new for Summer 2013, its first season to be available to bikini lovers online and in shops. Los Angeles swimwear fashion designer Joanna Kinsman moved to the LA area from Maine a year ago to pursue her passion for designing the most glamorous bikinis around - and she's just getting started. The line is handmade in Santa Barbara and downtown Los Angeles, with deliberating attention to detail including lace covered strings and flattering swimwear silhouettes.
This press release was submitted by Justin Kunst of http://localseoservicesforbusinesses.com/ .