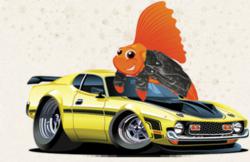 But the catch 22 is that you have to have some debt to have a credit history, period.
New York, NY (PRWEB) February 12, 2013
RoadFish.com men's lifestyle and finance magazine today released their observations regarding a recent MSN Money article that shone a light on the possibilities for consumer credit to be affected by the consequences of their tax filings. MSN pointed out that consumers who cannot afford to pay the money that they owe to the IRS could see ramifications to their credit. RoadFish.com reassured consumers that the chances of their score dropping significantly are low, provided that they make smart decisions in their financial planning.
A recent article published in MSN Money by Gerri Detweller stated that simply filing an extension during tax season, or discovering that money is owed to the IRS are not things that will have any affect on consumers' credit reports. Reports and scores can, however, be affected if consumers can't afford to pay back what they owe to Uncle Sam. Detweller stated that if consumers owe tax bills and don't have the money up front to pay up, loans can be taken out—but those same loans will certainly show on a credit report. The other option is for consumers who owe to pay monthly installments to the IRS, but the danger in handling money owed this way is that a federal tax lien could be filed against the debtor if the sum is large enough, or if the debt is not resolved fast enough. A tax lien would definitely show on a credit report, and is considered a more serious mark than a loan. Detweller states that tax liens "fall in the seriously negative category, along with items like collection accounts or bankruptcy."
RoadFish.com encouraged consumers not to worry too much about the tax liens, but stated that it's a very good idea to have a stash of cash tucked away in case they do owe. RoadFish.com's Senior staff writer is quoted as saying, "It can be really stressful finding out that you owe money to the IRS, especially if you were expecting—and relying on—getting a refund instead. Money management is important if you do find yourself in this scenario, and I believe that the best course of action is preparation. A proactive approach is to set aside some money each month into a savings account for emergencies, that way you don't have to dip into your daily account if you do owe. If you are in the unfortunate position o f not having an emergency fund, and the money you owe will dip into your monthly budget, you need to start keeping track of every penny that you spend and start tightening the reigns to make up for it."
The above-mentioned MSN Money article states that another way taxes can worsen credit scores is if consumers take out a refund anticipation loan, which is a way of getting their refund early. This type of loan is a short-term loan that comes at a high cost, and may or may not wind up on a credit report. Detweller states that H&R's "Refund Anticipation Check" is considered a bank deposit instead of a loan, but its line of credit called the Emerald Advance states, "If you apply and qualify for an Emerald Advance, H&R Block Bank may report information about your account to credit bureaus. Late payments, missed payments, or other defaults on your account may be reflected on your credit report." If consumers can't pay back this loan, or the refund check takes a long time to arrive, late payments can occur and the consequences are seen in the consumer's credit score.
RoadFish.com did assure readers that for the majority of tax filers, they shouldn't see anything showing up on their credit. RoadFish.com's Senior staff writer is quoted as saying, "It's common sense. If you owe money, and you can't pay it, you are in debt. Debt shows up on your credit. If you pay your debt off in a timely manner and don't have late payments, your credit honestly might not even really suffer. People think that debt equals bad credit, and in a sense they are right because too much debt will lead to bad credit. But the catch 22 is that you have to have some debt to have a credit history, period. Bottom line is not to stress too much about owing money at tax time, but if you are concerned that you may owe some, start saving and budgeting for it now so that it's not a crushing surprise."
MSN Money issued its own warning to consumers by reporting that tax related identity theft is a growing problem in the U.S., one that affects consumers every tax season because of thieves stealing refunds. Detweller states that tax related identity theft is estimated to become up to a $21 billion problem over the next five years.
About RoadFish.com:
RoadFish.com online magazine for men features articles about lifestyle and finance geared towards male readers in their 30's and 40's. RoadFish.com caters their publications towards men who have already achieved a fair amount of success in life, and who enjoy meeting new challenges and goals. The online publication routinely features stories about hot chicks and the top online dating site, restaurant and hotel reviews and new luxury items for men. RoadFish.com dishes out plenty of financial advice in the credit and debt department, as well as how to protect against identity thieves. RoadFish.com is owned and operated by Purpose, Inc.