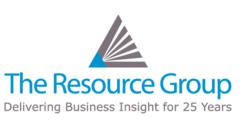 Providing our consultants with the most current training on the Microsoft Dynamics GP platform is paramount to our ongoing efforts to partner with our clients to help them achieve success. - Marty Schillaci, CEO of The Resource Group
Renton, WA (PRWEB) April 29, 2013
The Resource Group recently invested in the necessary training to implement the newly released Microsoft Dynamics GP Web Client. The Resource Group is a leading provider of Microsoft Dynamics® GP (formerly, Great Plains), helping customers utilize their software solution to gain business insight and manage their organization more efficiently and effectively.
The comprehensive, two-day Microsoft course held in Dallas, featured sessions on the functionality and security requirements for Microsoft Dynamics GP 2013 on the web client. The course, which was held in January, was attended by two of The Resource Group's technical consultants.
"Providing our consultants with the most current training on the Microsoft Dynamics GP platform is paramount in our ongoing efforts to partner with our clients to help them achieve success," said Marty Schillaci, CEO of The Resource Group. "It gives us the ability to become more proactive in identifying ways to help them use their systems more effectively and efficiently."
Microsoft Dynamics GP is a robust enterprise resource planning (ERP) system that integrates easily into multiple data sources, allows flexible reporting, and is easily scalable to meet current and future business needs. Microsoft Dynamics GP 2013 – the latest release – offers more than 200 new features.
The new web client is browser-based, which gives companies the ability to provide access to users without the use of a Terminal Server or a Remote Desktop. The web client offers the look and feel of Microsoft Dynamics GP 2013, while providing the ability to run reports that go directly onto workstations.
To learn more about The Resource Group, please visit http://www.resgroup.com/about-resource-group.
About The Resource Group
The Resource Group is a seasoned team of business professionals that help companies gain valuable business insight from their financial systems, enabling customers to manage their business more efficiently and effectively. We are a leading provider of Microsoft Dynamics GP (Great Plains) accounting and business management software solutions. For over two decades, The Resource Group has helped hundreds of organizations throughout the Pacific Northwest states of Washington, Oregon, Idaho, and Alaska streamline operations, optimize finances, and improve reporting by utilizing Microsoft Dynamics GP software.