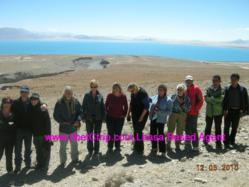 Tibet travel blog by local Tibet travel agency TCTS is with lots of practical travel advices.
(PRWEB) April 01, 2013
One Lhasa-based local Tibet tour agent-Tibet Ctrip Travel Service-TCTS is glad to send out a new release that their Tibet travel blog site is online now and hope it will be a great help for travelers' Tibet tour arrangements. On this blog site, Tibet travelers can get the latest Tibet travel news about permits and visa, weather and festival and important Tibet travel advice. Meanwhile, they have discussions on some famous Tibet travel programs on Tibet culture tour, Tibet trekking adventure, budget Tibet group tour together with some information on Tibet travel highlights attractions.
Latest Tibet travel news about permits and visa:
Tibet travel permit will re-open from April 1st 2013 and foreign travelers can take private tour or Tibet group tour without any group size limitation and nationality limitation. Since March 2008, it becomes very sensitive and foreigners were banned often to travel Tibet in the past five years. Moreover, temporary closures of Tibet during important Chinese National events creates an additional risks for those planning to visit Tibet, but Tibet Travel Service TCTS is dedicated to providing the firsthand information and professional Tibet travel service to worldwide travelers and make their journey as easy as ABC.
Tibet culture tour:
Those planning a Tibet tour often find themselves with many places to visit in a short amount of time. TCTS understands travelers' needs and has created new Tibet culture tour itineraries that can be completed in as little as four days. With daily flights serving Lhasa, many choose to move on to Kathmandu or spend time exploring China after a short stay in Tibet.
While four days is enough to cover some of Tibet's most famous cultural sites, the itinerary can be customized to fit travelers' needs and interests. Years of experience organizing Tibet travel gives Tibet Ctrip an edge in providing enriching culture tours, even when travelers are short on time. When traveling across Asia, a few days in Tibet helps create a diverse experience and unforgettable memories!
Tibet trekking adventure:
Many who travel to Tibet come seeking adventure amongst some of the world's most incredible scenery! TCTS has released new information about two of their most popular trekking routes to help adventure travelers understand one that is right for them. TCTS makes an adventure like this possible by providing an experienced native Tibetan guide and trekking equipment like tents, sleeping bag, and cooking gear. For those looking to get away from it all and witness unparalleled natural scenery, the Everest Base Camp Trek is perfect. While the scenery is equally as beautiful, the Mt. Kailash trek is perfect for those looking to integrate a cultural experience with their trekking adventure. Two of the famous Tibet trekking programs are the Everest Base Camp trek and Ganden to Samye trekking. For the EBC trekking, trekkers begin near the village of Old Tingri in Mt. Everest Nature preserve. The scenery here is beyond imagination; travelers will need to be sure to bring extra camera batteries and memory cards as they will not want to stop taking pictures. The route to Everest base camp takes about four days, vehicle support is possible on this trek so it will not be necessary to hire a yak person. After breakfast each morning, the driver and cook head to the next camp, allowing the travel group and Tibetan guide to enjoy the hike and arrive to a camp that is already set up! While for Ganden to Samye trekking, TCTS will arrange local yaks and yak person together with experienced Tibetan mountain cook to support the whole four days trekking adventure.
Budget Tibet group tour:
Travelers looking for a Tibet budget tour often feel that they have limited options. TCTS, (tibetctrip.com) has been working to open up new Tibet tour opportunities for travelers looking to cut costs without sacrificing quality. Instead of packing travelers on a big site group, TCTS lowers the cost per person by matching small travel groups with other small travel groups that have similar travel interests and itineraries. Some of the most popular itineraries for budget Tibet tours include: Lhasa to Kathmandu with Mt. Everest in between or Lhasa-Everest-Lhasa round-trip, Lhasa-Namtso-Lhasa round-trip and Lhasa-Shigatse-Lhasa trip.
TCTS is one Lhasa local professional and responsible Tibet travel agency and tour operator. TCTS service team has thorough and accurate knowledge about Tibet culture, climate, travel regulations and reliable travel operation experiences in tourism. For how to set up a tour, travelers can feel free to contact TCTS travel agent.