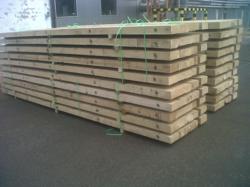 Not only does this accreditation show our commitment to the industry, our environmental policy and the health and wellbeing of our staff, it can help to speed up the tender process immensely
UK (PRWEB UK) 29 May 2013
Suppliers of temporary road access solutions, walkways and Bog Mats, Timbermat Ltd, has announced its recent accreditation to Constructionline, a UK Government Certification Service and national online database of pre-qualified contractors and consultants.
The criteria for Constructionline accreditation includes the supply of financial information including Directors' report, Auditor's or accountant's report and usual financial statements together with two references for each category, sector or discipline for which the business wishes to be registered. Additional requirements include, more specifically, evidence that the organisation has met Stage One of the Core Criteria of Construction Design and Management Regulations 2007, has supplied a completed Health and Safety questionnaire, Equal Opportunities questionnaire, Environmental questionnaire, categories and areas of the country the company is willing to work, together with the value of contracts it is prepared to undertake in these areas.
Timbermat's Managing Director, John Roberts said, 'although a lot of work is required to meet the pre-qualification criteria of Constructionline, it's been extremely worthwhile. Not only does this accreditation show our commitment to the industry, our environmental policy and the health and wellbeing of our staff, it can help to speed up the tender process immensely.'
For Timbermat, the Constructionline accreditation is another stamp of approval on the company's growing list of accredited organisations and recognised industry standard kite marks, including; ISO 9001 – 2008 certified, Link-Up, UVBD, FSC (the mark of responsible forestry) and SFI (Sustainable Forestry Initiative).
Timbermat is the UKs only official supplier of Emtek, the only system on the market with tested and certified load calculations, and a supplier of Reco-Trac 100% recycled Trackway. The company also adheres to SFI Certification regulations, a programme that recognises the importance of addressing illegal logging through certification, regulation and partnership initiatives, and the new EUTR introduced in March 2013 to help combat the placing of illegally produced wood products in to the EU Market.
For more information contact Timbermat Ltd on 0161 442 3157 or visit http://www.timbermat.co.uk.