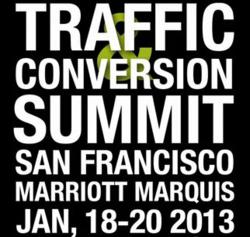 The 2013 Traffic and Conversion Summit will show people how to take action and see almost-instant results.
Austin, TX (PRWEB) November 06, 2012
Updating marketing strategies is a constant job in today's world, and Digital Marketer is doing something big to help. From January 18 to 20, 2013, Digital Marketer is turning the San Francisco Marriot Marquis into the center of the marketing world. They'll be holding their annual Traffic and Conversion Summit, which past attendees have included in the greatest possible ways to improve an online marketing approach.
Thousands of professional marketers, startup founders, bloggers, social media managers, and all kinds of online gurus have gathered at past Traffic and Conversion Summits to learn from each other as well as the experts at Digital Marketer. These people live and breathe online marketing, and will share the biggest trends and movements in the game.
According to past testimonials, some of which have been gathered and uploaded to Digital Marketer's YouTube Channel, the Traffic and Conversion Summit is not to be missed. They say the live digital marketing event will easily be one of the best investments in a marketing business.
Attendees will learn the best methods to create a master plan for any and all marketing businesses. Digital Marketer isn't in the habit of pitching products or services at the Traffic and Conversion Summit; instead, they are providing effective, valuable marketing know-how, and showing folks what's working now and what will work in the future.
It's all content, with no guest speaker list or "Marketing 101" basics. The Traffic and Conversion Summit will be a workshop-based digital marketing convention, with emphasis on the "work." Participants can expect to see real results, some before they even leave the event. That will only be the case if they put in the effort, according to Digital Marketer.
The testimonials assert that attendance at the Traffic and Conversion Summit will make people smarter and far more capable of running an online business after the three-day session. The consumption of content alone will make the education gathered at the event turn an online business into a success, based on what past participants have said.
The 2013 Traffic and Conversion Summit will show people how to take action and see almost-instant results. Early registration is encouraged to take advantage of special success-based discounts, as Digital Marketer is certain the lessons learned at the event will bring in more income within weeks of the event.
Digital Marketer holds live events and releases informational and educational materials to help businesses and entrepreneurs gain insight and information on the trends, data, and strategies that can take them to the top of their industry. Through their RAW Training courses, strategic plans, blogs, newsletters, site reviews, live events and Special Reports, Digital Marketer supercharges every single marketing campaign it touches. For more information, visit DigitalMarketer.com.