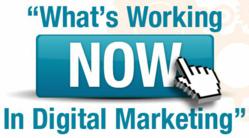 Past participants have rave reviews of the Traffic and Conversion Summit.
Austin, TX (PRWEB) December 04, 2012
The digital marketing event of the year will be the 2013 Traffic and Conversion Summit, said a recent online article from DigitalMarketer.com. It will be hosted and organized by Digital Marketer. The Summit is already surpassing previous years, and will likely be the biggest event Digital Marketer has ever held.
Every year, the article said thousands of digital marketing professionals gather at the Traffic and Conversion Summit for the ultimate source of content-driven experiences. Networking and relationship building is a leading benefit of the event, and it will be one of the biggest collections of like-minded digital marketers for the entire calendar year, according to the article.
Throughout the years of its existence, Digital Marketer has been at the forefront of live, interactive events that help marketers develop their skills. Attendees have come to expect a certain level of quality and the reassurance that their investments will provide returns, said the article. It explained that they will not be disappointed by the upcoming Traffic and Conversion Summit, and Digital Marketer wants to make it clear how beneficial the event can be to a marketing strategy.
Past participants have rave reviews of the Traffic and Conversion Summit, the article said. Jennifer Aderhold of BeaBestSeller.com said last year's event "set the stage for developing a successful strategy to grow my new business… [the organizers] over delivered on cutting edge, tested, digital marketing strategies and tactics that I was able to implement immediately."
Jeff Wilde of Los Angeles, California, the creator behind MTXForexTradingSystem.com said the 2012 Traffic and Conversion Summit, "was without a doubt well worth all the time and money it took to get there. Nine months later I haven't even implemented 25% of what I learned as there was just so many great money making ideas taught."
"The level of quality information shared was amazing. We had so many "ah ha" moments that I lost track. The level of A-players at the event is pretty amazing," said Dennys Passeto of LosetheBackPain.com.
More testimonials can be found at TrafficandConversionSummit.com/testimonials.
Digital Marketer releases informational and educational materials to help businesses and entrepreneurs gain insight and information on the trends, data, and strategies that can take them to the top of their industry. Through their RAW Training courses, strategic plans, blogs, newsletters, site reviews, and Special Reports, Digital Marketer supercharges every single marketing campaign it touches. For more information, visit DigitalMarketer.com.
No marketer or online business owner will want to miss out on the Summit, and registration is currently open for interested attendees. If the digital marketing event sounds like something that would be worth the time and expense, the article said to learn more about the digital marketing event at the 2013 Traffic and Conversion Summit website.