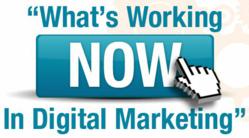 Already full of content-rich sessions and breakout groups, the 2013 Traffic and Conversion Summit will feature extra events.
Austin, TX (PRWEB) December 21, 2012
Digital Marketer is holding its fourth annual Traffic and Conversion Summit in San Francisco January 18-20, 2013 and announcing additional events in congruence with the weekend-long marketing conference.
Already full of content-rich sessions and breakout groups, the 2013 Traffic and Conversion Summit will feature the famed Nuts and Bolts JV Cocktail Mixer on the first day. It's a funky casual, relaxed and fun-filled get together where participants can get in the mix and make things happen with relationships and partnerships. Attendees are encouraged to loosen up and come in style, which in previous years has meant zebra bath robe and fuzzy slippers.
The second day will feature a Black Tie Party, where award nominees will be recognized and participants will have another chance to mingle outside the confines of the daily content sessions. A top secret After Party, with details only leaking as the event approaches, will take place at the end of Saturday night.
The last day will include the Wicked Smaht contest, a Traffic and Conversion Summit original that pits every brave marketer in attendance against each other. The idea is to find the smartest proven marketing trick in the room, and it often erupts into a rapid fire brain dump from almost 2,000 like-minded marketers. Also on Sunday is the Awards Presentations, where Fast Mover, Rookie, and Marketer of the Year trophies will be given out.
This year's event promises to be the most-attended and have the highest amount of buzz, centering around the recent announcement of William Shatner as the keynote speaker.
Digital Marketer releases informational and educational materials to help businesses and entrepreneurs gain insight and information on the trends, data, and strategies that can take them to the top of their industry. Through their RAW Training courses, strategic plans, blogs, newsletters, site reviews, and Special Reports, Digital Marketer supercharges every single marketing campaign it touches. For more information, visit DigitalMarketer.com.
The Traffic and Conversion Summit has never failed to sell out of its available seats, and even though this year's will hold more than ever before, the capacity is expected to be reached soon. To find out more about the Traffic and Conversion Summit, visit the informational website.