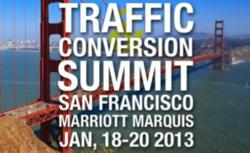 The Traffic and Conversion Summit starts Friday, January 18 and goes through Sunday, January 20, 2013.
Austin, TX (PRWEB) January 19, 2013
The 2013 Traffic and Conversion Summit VIP upgrade contest has ended, and Digital Marketer's newest blog post shares the winning submissions. These lucky folk will receive VIP status, including early registration, preferred seating for speeches, access to the VIP meeting room, and a special Friday night dinner hosted by the organizers during the three day event in San Francisco.
The Traffic and Conversion Summit starts Friday, January 18 and goes through Sunday, January 20, 2013.
"We were truly moved by all the entries submitted into our VIP Upgrade Contest and want to thank all for participating," wrote Luis Ramirez, Digital Marketer's social media specialist. "Some videos made us laugh and cry, some pictures creeped us out, and some tweets actually made us give-a-Shatner."
Other submissions can be viewed on Digital Marketer's YouTube page, or by searching #TCS2013 on Twitter and Facebook. Attendees are encouraged to follow all of DM's online properties and share their experiences throughout the event.
With a collection of speakers including William Shatner and Guy Kawasaki, the Summit promises to be Digital Marketer's biggest and best live event ever. Each day of the 2013 Traffic and Conversion Summit will also feature exclusive meetings on a variety of important topics, where Digital Marketer's experts will discuss what they know is working now. Content-heavy presentations and expert-led break out sessions will give participants all they need to develop their own winning digital marketing strategies.
Digital Marketer releases informational and educational materials to help businesses and entrepreneurs gain insight and information on the trends, data, and strategies that can take them to the top of their industry. Through their RAW Training courses, strategic plans, blogs, newsletters, site reviews, and Special Reports, Digital Marketer supercharges every single marketing campaign it touches. For more information, visit DigitalMarketer.com.
To find the full schedule of events and keep up to date with the happenings leading up to the January 18-20 dates, check out Digital Marketer's website, blog, and subscription email lists. Specific details on the 2013 Traffic and Conversion Summit can be found at TrafficandConversionSummit.com.
# # #