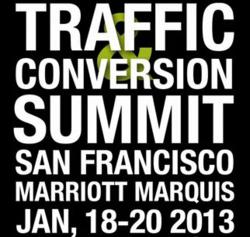 The Marriot Marquis in San Francisco will be the center of what's working now in digital marketing on January 18-20, 2013.
Austin, TX (PRWEB) January 16, 2013
Digital Marketer has announced that seats for the 2013 Traffic and Conversion Summit have officially sold out, and the upcoming event in San Francisco will prove to be the largest conference ever held by the company. The Marriot Marquis will be the center of what's working now in digital marketing on January 18-20, 2013.
The three-day Summit will feature content-centric meetings and sessions, with an emphasis on the strategies and best practices for modern digital marketing. DM is constantly on the cutting edge of the techniques used in today's dynamic marketing landscape, and the T&C Summit will share their unique outlook on what produces real results.
Headlining keynote speakers include William Shatner, Guy Kawasaki, Perry Belcher, and Digital Marketer's founder Ryan Deiss, who is eager to bring his team into the spotlight and share the content that's shaping the industry.
The event kicks off with a special Digital Marketer Engage meet up, featuring a presentation from David Murray, star of Bravo's "Start-Ups: Silicon Valley." The DM Engage meet up is available for any attendee of the Traffic and Conversion Summit. Pre-registration for the Summit will be from 2:00 to 8:00 p.m. at the Marriot Marquis, and Jillian's is next door to the hotel. Participants are encouraged to join DM Engage for drinks, appetizers, and networking along with music and contests.
Digital Marketer releases informational and educational materials to help businesses and entrepreneurs gain insight and information on the trends, data, and strategies that can take them to the top of their industry. Through their RAW Training courses, strategic plans, blogs, newsletters, site reviews, and Special Reports, Digital Marketer supercharges every single marketing campaign it touches. For more information, visit DigitalMarketer.com.
To find the full schedule of events and keep up to date with the happenings leading up to the January 18-20 dates, check out Digital Marketer's website, blog, and subscription email lists. Specific details on the digital marketing convention can be found at TrafficandConversionSummit.com.