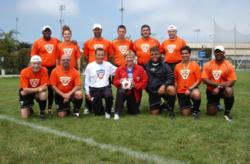 San Rafael, CA (PRWEB) February 19, 2013
The Vogelsinger Soccer Academy offers a unique coaching staff that blends playing experience on the field with years of training in the Vogelsinger method of teaching. The staff includes international coaches with numerous national team "caps" to their credit and several who have played on World Cup teams from such countries as Morocco, Uruguay, Italy and Peru.
Other coaches are former professional players from England, Denmark, Spain, Mexico, Wales and Brazil. Each year these coaches come together from around the world to join theprofessional stateside staff bringing their expertise and passion for the game of soccer to the students.
These master coaches have been trained in the Vogelsinger method for many years. Each one of these coaches has a unique specialty that makes our program the best education in soccer. "The biggest draw of our Academy is our international staff," says Vogelsinger National Director, Doug Parra. "They want to see our coaches from Brazil, Uruguay, Italy, England, Wales, etc. We are a true international academy. This is part of our tremendous success."
The international professional staff guides each player to acquire the technical mastery and mental focus that equal success in the game of soccer. Vogelsinger locations for 2013 include:
— Vogelsinger Soccer Academy at University of California, Santa Barbara
— Vogelsinger Soccer Academy at the Lawrenceville School, Lawrenceville, NJ
— Vogelsinger Soccer All Star School at Carthage College, Kenosha, WI
— Vogelsinger Soccer Academy at the Brooks School, North Andover, MA
Doug Parra is a senior staff member with 34 years of experience at the Academy. He is the National Director and Coordinator of the Vogelsinger Academy. Doug oversees the Vogelsinger soccer program and coordinates master coaches and staff with our students. His technical teaching skills are unique and directly inspired by his mentor, Hubert Vogelsinger.
Mustapha Achab is one of the master coaches for the Academy goalkeeper program. Mustapha is a former Moroccan international goalkeeper with over 400 professional appearances. He is assisted by Matt Kennedy, (USA) and Graziano Baldanzi (Italy).
Matt Kennedy is a former professional player and a member of our Academy staff for 28 years. He is the head master technical instructor and Soccerobics instructor. Matt also coaches the goalkeepers, having played for 10 years in the NASL, MSL, ASL and USL. He is assisted by Eddie Pedersen (Denmark), Martin Rocca (Uruguay) and Javier Gonzalez (Mexico).
Steve Burton comes from England where he coaches with a professional football club. He has been a member of our Academy staff for 13 years. Steve is the head master tactical instructor. Students also benefit from his technical skills in goalkeeping and from his administrative experience. He is assisted by Chris Quidley (England), Darran Jones (Wales), Fabrizio Benedetti (Italy), and Mauro Bertoni- 807 international caps (Italy).
Fabio Oliveira is a former Brazilian professional player who has been a member of our Academy staff for five years. He is the master dribbling and instructor. He is assisted by Helton Tostes, (Brazil).
The Vogelsinger Soccer Academy sets the standard for excellence in soccer education. Founded by the extraordinary coach and teacher Hubert Vogelsinger in 1965, the Academy offers a unique, dynamic soccer environment in which players master the mental, physical and technical skills of the game. Voglesinger offers one, two and three week programs.
The precise step-by-step teaching methods create a crystal clear picture of each skill through explanation, demonstration and participation. When students master the mental skill of visualization, they ultimately generate a self-role model for perfecting each physical skill. As the 'mind's eye' sees every detail of correct technical positioning, what the mind conceives the body can then achieve.
About US Sports Camps
US Sports Camps (USSC), headquartered in San Rafael, California, is America's largest sports camp network and the licensed operator of NIKE Sports Camps. The company was started in 1975 with the same mission that defines it today: to shape a lifelong enjoyment of athletics through high quality sports education and skill enhancement.
Players, coaches, parents and others interested in Vogelsinger Soccer Academy can visit VogelsingerSoccer.com or call 1-888-780-CAMP.