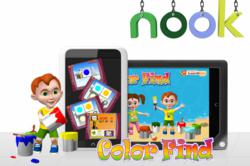 This is a great opportunity for the visual learners out there. Many children with autism spectrum disorders can now have one centralized place to store their picture books and apps. This is going to make things simpler for parents
Somerset, New Jersey (PRWEB) March 25, 2013
The NOOK Tablet from Barnes & Noble B&N has provided an app store of their own for their line of Android powered readers. Since these tablets are Android based, those who already own a NOOK will not have to buy a new device just to use the autism intervention apps.
"Currently, users can find a dozen apps on the Android based developer portal," said Rahul Gupta, who is working with his team to push more apps out into the expanding app marketplace.
On top of WebTeam's iLearnNEarn Series of Apps for Autism getting a recent update, they have now also created multiple volumes of the activities provided. You can now visit the NOOK store and purchase packages of the popular iLearnNEarn activities for a one-time fee, rather than subscribing monthly. In addition to the packages of iLearnNEarn, users can download many other apps from WebTeam, including 123 Order, 2 Times Fun, Body Atlas, C with my eyes, Color Find, Cursive Lower Case, Cursive Upper Case, Divide N Play, iAssessNTeach Home Series, iLNE Spell 2, Make Sentences, Plus More, Minus Drills, and Sounds of the House.
In addition to adding apps to this platform, NOOK has also expressed their interest in apps for special needs. This April, they will be promoting different kinds of apps for autism. The developers from NOOK are making the final adjustments for their campaign to begin. WebTeam has graciously provided their apps for NOOK to broadcast on their network for Autism Awareness Month.
"This is a great opportunity for the visual learners out there. Many children with autism spectrum disorders can now have one centralized place to store their picture books and apps. This is going to make things simpler for parents," says Kedar Bins, Senior Graphic Designer at WebTeam Corporation.
On the note of new platforms that WebTeam is looking to expand to, there is talk of Amazon and Samsung as well. Both the markets also deal in apps made for the Android platform. "Our goal is to make all our apps for autism available in all platform to deliver synchronized intervention in different settings using different mobile devices. This is why we are expanding upon all different markets," says Nish Parikh, CEO of WebTeam Corporation.
Currently, WebTeam is busy developing iLearnNEarn2 – the next-gen version of their popular autism app series iLearnNEarn. The new program for autism will cater to millions of web users looking for a structured, curriculum based special education tool that could educate children on the spectrum about a number of essential life skills, including color, object and shapes matching, verbal and non-verbal communication skills, visual tracking, gross motor imitation, body parts identification, categorization, social interaction, self-care, and preschool readiness.
The good news is that iLearnNEarn2 will be available on NOOK also, which means parents and teachers can use any platform to run the program and deliver consistent intervention.
About WebTeam Corporation
WebTeam Corporation (WTC) has been working closely with leading industry experts, teachers and professionals to bring about a positive change in the lives of individuals with autism spectrum disorders. The technology-driven company has been developing apps for autism and other special education needs since 2006. S.H.A.N.E.S.H. Colors (Shanesh COLORS) – WTC's patent-pending technology – has been a buzz on the market of late, offering an innovative special education model to parents, teachers, therapists and professionals involved with the autism community worldwide.