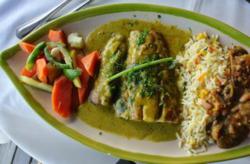 You are so close to the water that you can easily put your toe into it.
Castries, St. Lucia (PRWEB) January 24, 2013
New review of Coal Pot Restaurant in St. Lucia featured in Gourmet Adventures, covers the art, ambiance, service, cuisine and even the view and neighborhood.
The review is written by Ian R Clayton, who writes that part of the reason to visit The Coal Pot is the view.
"Dining at Coal Pot is special. You should reserve in advance and make sure you get a table right on the waterfront. You are so close to the water that you can easily put your toe into it. It's a shallow beach front table and at night the sea is lit up so that you can see the fish swimming by. The water is clear and even the pebbles under the water are visible from your table," he wrote.
The Coal Pot was built on the site of a fire in Castries in 1948. In 1958, Bob Elliott became the youngest man, at the time, to sail solo across the Atlantic. In 1966, Bob and his wife opened The Coal Pot. A cannon, found in the bottom of the marina, now protects the restaurant.
Castries is one of the ports of St. Lucia and the main hub for the island.
Mr. Clayton said a meal at The Coal Pot is definitely one of the things to do in Castries St. Lucia. He describes The Coal Pot as a place where gourmet adventures happen daily. "You are eating on art when you dine at Coal Pot," he wrote.
The restaurant itself is a feast for the eyes. "The art on the walls and the tables is by Michelle Elliott. Her style is "whimsical and fun" with vibrant colors and a very personal style with that touch of fantasy. She captures the spirit of St. Lucia and the sunny ambiance and colors of the Caribbean," he wrote.
Those interested in visiting the restaurant will be pleased to know that it is across the cove from the Poinsettia Villa Apartments in St. Lucia. Those wondering where to stay in St. Lucia should consider the villas.
The Coal Pot is one of many fine St. Lucia restaurants which dot the island where gourmet dining is one of the many highlights of a Saint Lucia holiday adventure.
For more information see ATD Gourmet Adventures - Click Here
See the video: http://www.youtube.com/watch?v=kyC65dVlW2Q