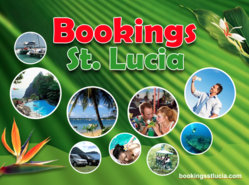 Travelers looking for villas and apartments were not well served and local directories of the same are not easy to find on the Internet.
Castries, St. Lucia (PRWEB) January 24, 2013
BookingsStlucia, the first central reservation system for direct bookings and holiday planning for Saint Lucia, has added a separate directory of apartment rentals in St. Lucia to its accommodation listing. The directory can be seen at http://bit.ly/apartmentdirectory-stlucia .
BookingsStlucia.com (BSL) was established in 2008 to provide travelers with a comprehensive directory of all tourism properties and the ability to get live quotes for holidays, save results, reserve a holiday or book direct with the hotel and tourism operator. From the start, the site included a directory of villas and apartment rentals in St. Lucia, but not as a separate entity.
In 2013, the company realized that there was a gap in the market for a specialized directory of all self catering accommodation in Saint Lucia. While these were available in the BSL search and bookings engine, the directory bundled apartments and villas together with hotels and resorts.
"It was clear that travelers looking for villas and apartments to rent were not well served and local directories of the same are not easy to find on the Internet," says Ian Clayton, CEO of the company, "so we decided now was the time to create a separate directory to list apartments and villas for rent on the island."
"The villas and apartments directory for St. Lucia is as complete as the web designer can make it," Clayton said. He said they did not intentionally leave anyone out and properties can add themselves for free by contacting the company at the contact provided.
"We want to be sure everyone is represented. We want our visitors to have a complete listing of St. Lucia apartments so they can plan their stay with confidence," he said. "Our aim is to make it the most complete St. Lucia accommodation directory with easy access to the specific lodging desired."
"Each of the listings has a mailing address and a website link for more information. A phone and fax are given where available. Some of the accommodations offer reservation quotes while others do not. This is an option afforded to all, but some choose not to have it," Ms. Ward said.
The website also includes an arrival and departure calendar, the option to add children, seniors and extra persons and get an instant quote direct from the property.
Website users can also sort their accommodation choices by price, kind of place to stay and even the mood, such as romantic holidays.
"St. Lucia is a place for lovers and many people want to spend time here for special occasions. The website is set up to handle that. While the whole island welcomes people, some places are just a bit more suited for a honeymoon or something similar," Clayton said.
ABOUT
BookingStlucia.com is part of the AXSES RealHolidays network which includes over 30 sites ranging from destination sites like the Barbados Tourism Encyclopedia.
AXSES is a leader in Marketing for Travel. It was one of the first companies to develop a direct bookings application for Facebook, and has consistently been an innovator in all aspects of travel marketing. In 2011, AXSES was featured by the New York Times in an article on Social Media use in Travel.
The AXSES team works with professionals in the hotel, tourism and travel industries to help build their businesses through all forms of social media and conventional marketing. The company has built a series of travel and tourism marketing machines, including the SocialIndexEngine.com which helps companies build a ubiquitous social network for brand messaging and communications.
LINKS
The Travel Planner and Guide is http://bookingsstlucia.com
The Saint Lucia Apartments Directory is http://bit.ly/apartmentdirectory-stlucia
See the video at http://www.youtube.com/watch?v=c1idtJcAMso