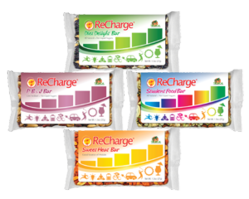 The ReCharge line consists of some of our best selling snack mixes and the new ReCharge Bars offer a healthier alternative to a snack on the go
Charlotte, NC (PRWEB) January 15, 2013
Tropical's favorite snack mix flavors are now available on the go. Tropical Foods is adding to their ReCharge line of snacks with new ReCharge Bars.
"The ReCharge line consists of some of our best selling snack mixes and the new ReCharge Bars offer a healthier alternative to a snack on the go," said Chad Hartman, Marketing Director at Tropical Foods. "Bursting with flavor, the bars are made through an all-natural process with no added sugars or preservatives."
As a new year begins, resolutions are made for self-improvement and success. Among the top New Year's resolutions are weight loss and healthier eating. While statistics show that more women make New Year resolutions and more men are likely to actually keep them, only 12% of people ultimately have success. It's important to make specific, attainable goals.
Healthy snacking is one of the best eating habits you can adopt - and one of the easiest. Tropical Foods' ReCharge Bars are a healthier option than traditional snack foods with all the bars under 200 calories. ReCharge Bars consist of some of the best-selling Tropical Foods mixes, made into a bar. Choose from the all-natural Student Food and Diet Delight bars or splurge a little on the Sweet Heat and PB&J flavors.
For more information, visit http://www.tropicalfoods.com.
About Tropical Foods
Tropical Foods specializes in premium snack mixes, raw and freshly roasted nuts and seeds, dried fruit, and hundreds of bulk and packaged candies, spices, grains and specialty foods. Tropical Foods has an extensive line of retail branded products, including Grabeez®, Buffalo Nuts® and Dipping Chocolates. The company was founded in 1977 with an original product line of 100 items which has grown to include more than 3000 today. Privately-owned, Tropical is headquartered in Charlotte, NC, with additional operating centers in Orlando, Atlanta, Memphis, Washington DC and Dallas.