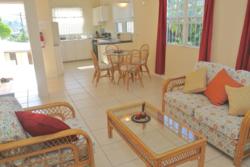 The view of Vigie Cove, St. Lucia and the Caribbean ocean from the roof top is stunning
Vigie, St. Lucia (PRWEB) February 28, 2013
Villa Apartment #2 is a roof top residence two bedroom apartment for rent in St. Lucia. This ocean view villa apartment includes a large living, dining and kitchen area with an open plan and large windows overlooking the terrace, pool, gardens and ocean.
The view of Vigie Cove and the Caribbean ocean from the roof top is stunning.
Spacious and comfortable with all the amenities of a home, Villa-Apartment #2 is furnished with green, blue and rust floral upholstery, off-set with deep red and yellow cushions. Rust colored curtains frame the large windows which overlook the terrace, cove and the pool.
Apartment # 2 is available for rent in St. Lucia for short term holidays and long term living at some of the best rates you will find in St. Lucia. It is ideal for families and small groups of friends.
ABOUT
Poinsettia Villa Apartments is a family owned and managed resort in Vigie Cove, Castries Saint Lucia. The resort sits on top of a small hill right above the shallow draft marina and the picturesque inlet.
It is moments away from the inter-island airport and ideally located for business and island hopping holidays. The resort is surrounded by lush, tropical trees and gardens, close to the harbor, the fish and farmers markets, Vigie Beach, excellent restaurants, supermarkets and all your holiday and long stay needs.
Vigie Beach is a wide and long sandy beach with good swimming. The beach has several licensed beach huts serving home cooked food, fresh fruit juices, Piton Beer, rum and other drinks.
Poinsettia's one and two bedroom villa apartments are affordable, self-catering accommodations with home-style living in a resort setting.
LINKS
Roof Top Residence # 2
http://www.poinsettiaapartments.com/apt-villa2-rooftop-residence.htm
Video https://www.youtube.com/watch?v=7ESC9PEfzi8
by Realholidays.tv
http://PoinsettiaApartments.com
Belizaire Road, Vigie, St Lucia
Tel 1 (758)456-0469 Fax 1 (758)452-0217