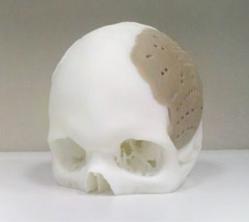 OPM has recently completed testing which confirms that the OsteoFab™ implant surface is, in fact, osteoconductive.
South Windsor, CT (PRWEB) February 18, 2013
Oxford Performance Materials (OPM) is pleased to announce it has received FDA 510(k) clearance for the OsteoFab™ Patient Specific Cranial Device (OPSCD). "OsteoFab" is OPM's brand for Additively Manufactured medical and implant parts produced from PEKK polymer. With OPM's Additive Manufacturing process (also called "3D Printing"), implants are "grown" layer by layer directly from a digital CAD file without the aid of tooling and with few practical limits on what can be produced. As such, the OsteoFab™ technology is ideal for one-off implants specifically shaped to each patient's anatomy. One very desirable use of patient specific implants and the indication for the OPSCD is cranial implants to replace bony voids in the skull due to trauma or disease. FDA clearance of this device marks the first approval for an additively manufactured polymer implant.
In addition to the importance of implant fit, implant material is a critical consideration. The OPSCD is manufactured from PEKK, an ultra high performance polymer used in biomedical implants and other highly demanding applications. OPM had traditionally sold PEKK as a raw material or in a semi-finished form, but began developing Additive Manufacturing technologies in 2006. In 2011, OPM established a biomedical compliant manufacturing facility in South Windsor, CT to support its growing Additive Manufacturing business. As an implantable polymer, PEKK is unique in that is biocompatible, mechanically similar to bone, and radiolucent so as not to interfere with X-Ray equipment. Furthermore, OPM has recently completed testing which confirms that the OsteoFab™ implant surface is, in fact, osteoconductive.
"It is our firm belief that the combination of PEKK and Additive Manufacturing (our OsteoFab™ technology) is a highly transformative and disruptive technology platform that will substantially impact all sectors of the orthopedic industry," said Scott DeFelice, President and CEO of OPM. "We have sought our first approval within cranial implants because the need was most compelling; however, this is just the beginning. We will now move systematically throughout the body in an effort to deliver improved outcomes at lower overall cost to the patient and healthcare provider." It is OPM's strategy to undertake all manufacturing and regulatory activities to support patient specific implant product commercialization. The company is seeking well-qualified partners to bring these technologies to market. In addition to its own devices, the company offers bespoke part production for its customers.
About OPM
OPM operates at the intersection of high performance polymers, Additive Manufacturing technologies, and the creation of structures for the biomedical and aerospace sectors. The firm currently has four operating divisions: Biomedical Devices and Parts, Biomedical Raw Materials, Industrial Parts, and Metrology Sciences. OPM was selected to participate in the National Additive Manufacturing Innovation Institute (NAMII) in 2012. OPM is certified ISO 13485 and ISO 9001.
For more information, please visit http://www.oxfordpm.com