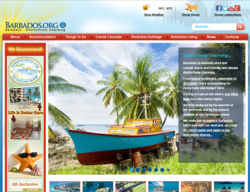 The site is designed to reflect the new branding of Barbados as the most distinctively charming island in the Caribbean
Bridgetown, Barbados (PRWEB) February 19, 2013
Barbados.org's new design gets rave reviews from users, travelers and the hotel and tourism operators in Barbados.
Errol Griffith, past Vice President of the Barbados Tourism Authority says, "I was showing the website to my colleagues on Friday, and the immediate response was 'WOW!!!!!'."
A regular user says: "Barbados.org is a fantastic website which I send to all my friends whenever they request information about Barbados. I just opened it and noticed you have upgraded it....it is even better than before. Thank you!"
The new design is attractive and dynamic. Its real value is in the coupling of technology and the new Responsive Web Design (RWD), recommended by Google and cited by .net Magazine as the #1 trend for web design in 2013.
The new RWD site accommodates multiple devices, browser sizes and capabilities. Each device reads the same page, which is pre-planned for the features and capabilities of the different platforms. Kathy-Lynn Ward, COO of the BTE, says "RWD simple is one design for all devices."
Touch-friendly navigation has been specially integrated for smartphone and tablet users. Drop down menus and overlays are used strategically on the different devices. For example, for smaller screen sizes the search is presented as an overlay so that it remains prominent while not dominating the screen.
Hotels, tourism operators and hospitality suppliers who advertise on Barbados.org now get optimal exposure on each platform as their ads adapt responsively. A full size banner image ad on the desktop is scaled for tablet viewing. On smaller devices such as smartphones, the image ad switches to a text ad for easy viewing and improved click through rate.
The new Barbados.org site also provides a host of travel shopping and intelligent display systems like interactive maps that show rates and images and allow users to get a quote, book a hotel or add it to a shopping list. With travelers visiting 20 or more sites before they make a decision, shopping lists and other sticky technology like the bookable-maps that also allow visitors to "add to my favorites" are now vital.
The site is designed to reflect the new branding of Barbados as the most distinctively charming island in the Caribbean. While Barbados beaches, restaurants and hotels are considered amongst the best in the world, the island is also distinctive in geology, heritage and culture.
Recently inscribed as a World Heritage Site (Bridgetown and Its Garrison Area), Barbados is also naturally charming, not the least of which is the people with their colorful speech, their walk, their engaging looks and their endless energy and love of life. The new website strongly features local lifestyles, from the fishermen casting their nets along the inshore reefs to crafts and community.
Key Features
In addition to its multi-device capabilities, the new Barbados.org design covers 5 key points:
1. Improved website navigation in the form of drop-down menus, overlays and enhanced inter-linking of pages.
2. Improved search capabilities.
3. Visual redesign to portray Barbados as a distinctively charming island with unique qualities that set it apart from other warm weather destinations. The design itself is backed up by strong visuals that support this branding.
4. New content has been added to support the distinctively charming brand including local recipes and a rum shop tour.
5. Stronger emphasis on social interaction with past and potential visitors.
ABOUT
The Barbados Tourism Encyclopedia offers comprehensive information, shopping systems and dynamic packages perfected over 14 years by the local company AXSES SCI.
AXSES develops a range of Tourism Marketing Machines including technology for Facebook bookings, fan page posts, travel power blasts, social index engines, shopping systems and direct bookings for hotel and tourism companies.
LINKS
Travel Marketing: http://TourismMarketingMachines.com
Barbados: http://Barbados.org
Video:http://www.youtube.com/watch?v=Ytzjeopa6d4