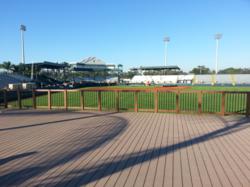 TimberTech strongly resembles wood without the hassles," said Stefanie Kane, TimberTech Assoc. Marketing Manager." It will be very easy for the McKechnie Field staff to maintain."
Bradenton, FL (PRWEB) February 22, 2013
A new TimberTech boardwalk which will provide a picnic and party area as well as access around McKechnie Field Stadium has been completed. The stadium has been the home to the Pittsburgh Pirates spring training since 1969 and home to the Pirate's High-A affiliate, the Bradenton Marauders, since 2010. Part of a $10 million renovation with funds from a tourism development tax, the new stadium opens to the public on Feb. 22, 2013. It is the oldest spring training ballpark in the country, originally constructed in 1923 and retains its original façade at the entryway.
Homeowners may recognize TimberTech as a popular composite decking product used in backyards across the country. According to Stefanie Kane, Associate Marketing Manager for the Ohio-based deck manufacturer, this particular TimberTech product is called Docksider which is a bit larger than typical deck boards and is used more for boardwalks. The color is "cedar" as is the TimberTech railing, to strongly resemble wood without the hassles. "It will be very easy for the McKechnie Field staff to maintain over time," she said.
NDC Construction of Bradenton managed the stadium facelift, with Duncan Seawall of Sarasota as the subcontractor for the TimberTech boardwalk, providing fans with seating in the outfield for the first time. TimberTech was supplied to Duncan Seawall by Decks & Docks, a local lumberyard and building material supplier.
The TimberTech boardwalk makes the field a true 360 degree ballpark. With a barbecue area, the right field boardwalk provides a spot for a pre-game picnic for 25 or more fans. The left field side also has a TimberTech party deck with a high-end menu. In fact, the entire stadium will increase seating by 2,000 seats, with more fan space and concessions.
According to Kane, what is special about a composite is its ability to wear over a long period of time and the fact that it's splinter-free and can stand up to heavy use. The Docksider product also can span 24 inches from the center of one supporting joist to the other, a unique feature perfect for commercial applications. "Unlike wood, it will not rot or deteriorate, so it should last for many baseball seasons to come," she said.
Although TimberTech adds a bit of modern technology to the old-style ballpark, it blends in naturally. "The great thing about this composite is that strongly resembles natural
wood--it is not shiny or plastic looking," said Steve Porter, Duncan Seawall. "And the longevity will far surpass wood."
For more information, visit http://www.timbertech.com. To learn more about McKechnie Field and the Bradenton Marauders, visit http://www.BradentonMarauders.com, or email
MaraudersInfo(at)Pirates(dot)com.
CONTACTS:
Mike Gallagher (TimberTech rep)
TimberTech
813-326-3547
Christy Stephens
Decks & Docks (boardwalk material supplier)
941-650-9907
Steve Porter
Duncan Seawall (decking contractor)
941-809-6432
.