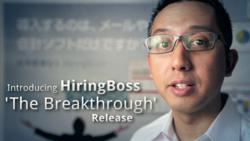 Without a doubt, this is the most powerful, intuitive and flexible applicant tracking system available in Asia.
Singapore (PRWEB) April 01, 2013
HiringBoss (http://www.hiringboss.com), the Asia-based providers of HR and recruiting technology, today release a major new upgrade of their popular applicant tracking solution. Dubbed the HiringBoss 'Breakthrough' release, this enhanced version of their eRecruiting platform includes a raft of innovative new features aimed at improving user experience and adoption. This marks the second major HiringBoss system release of 2013.
VIDEO: Head of Product Development, Andi Taufiq, Introduces HiringBoss 'The Breakthrough' Release
HiringBoss CEO and Founder, Bernie Schiemer today commented, "This is a product upgrade so significant that we named it. Today's HiringBoss 'Breakthrough' release takes us from being a first-rate solution for Asian businesses into the Champions League elite of HR technology providers for global companies. Without a doubt, this is the most powerful, intuitive and flexible applicant tracking system available in Asia."
The new features introduced in this latest HiringBoss upgrade are aligned to our 4 key principles of usability, flexibility, collaboration and adoption. Schiemer added, "As much as HiringBoss is about cool features-and our Breakthrough release is full of these-everything we do comes back to keeping things simple and staying true to our commitment to being the #1 recruiting choice for businesses here in Asia". Schiemer continued, "We've been listening closely to our customers and, as such, are delighted to be introducing a raft of deeper social integration and smarter collaboration tools, such as our instant messenger live-chat and referral systems. We're also super-charging configurability, so users can map their own processes into our system and can start leveraging HiringBoss quickly and with minimum of hassle. Enhancements to our 'My Taskboard', online careers websites and candidate/agency portals, plus a range of nifty system shortcuts deliver a double-whammy of improved user engagement and ease-of-use for everyone involved in the recruiting process."
HiringBoss is a native SaaS application, with regular product upgrades offered to existing customers as part of the monthly software fee. "HiringBoss is a constantly evolving solution. In addition to some huge new features, this Breakthrough release delivers a range of small but significant tweaks that make HiringBoss easier to navigate for users in our major client hubs of Japan, Singapore, Vietnam, Indonesia and beyond. It's this obsessive attention to detail, coupled with in-country support that makes us different to other HR technology providers. It's why, if you do business in Asia, you should be speaking to HiringBoss."
HiringBoss are gearing up for the launch of StaffingBoss, their new SaaS solution for staffing and recruiting agencies, and HrBoss, their talent gateway solution, in May of 2013.
For inquiries contact: sales(at)hiringboss(dot)com
About HiringBoss
HiringBoss is applicant-tracking software designed for global businesses in Asia. Launched in 2011, HiringBoss is one of the fastest growing tech start-ups in Asia.
HiringBoss combines innovative new features, multi-language compatibility, intuitive design and a low entry-level price point. Suitable for businesses of all sizes, we have clients across a range of industries spanning Government, Engineering, Manufacturing and Pharmaceuticals. These include Mitsubishi Fuso, the Singapore Tourism Board and Canon. With offices currently operating in Singapore, Japan, Vietnam and Indonesia, and a further 7 Asian countries in the pipeline for Q1 and 2 of 2013. We are currently available in 9 Asian languages.
HiringBoss recently secured significant investment from JAFCO, the largest and most prestigious venture capital firm in Japan. This recent investment has been used for increased R&D, support and passion in delivering the best applicant tracking and HR solutions we can for our customers… and further illustrates our commitment in establishing HiringBoss as Asia's leading HR and Recruiting software provider.
We are currently actively sourcing talented people in Indonesia, Japan, Thailand, Malaysia and China to become part of the HiringBoss story. Learn more by visiting our website: http://www.hiringboss.com
email: sales(at)hiringboss(dot)com