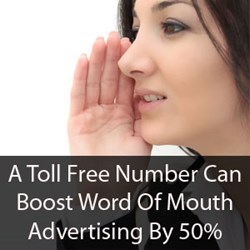 Believe it or not, a toll free number can boost word of mouth advertising by 50% and reduce the rate of returns by the same percentage. It can also boost your business by 600%."
Irvine, CA (PRWEB) October 31, 2013
Tollfreenumber.org an American-based company, has released information on their site that pertains to the benefits of owning a toll free number, as well as how toll free numbers can be a valuable marketing tool. A new resources section on the TFN.org site features articles and advice on the ways that you can make a toll free number work for you.
"The advantages of owning a toll free number are many," states Logan Marshall, Founder of tollfreenumber.org, "and we wanted to feature a section that allows people to learn about how they can truly benefit from their number. Believe it or not, a toll free number can boost word of mouth advertising by 50% and reduce the rate of returns by the same percentage. It can also boost your business by 600%."
Those that would like to purchase a toll free number are being urged to do so as soon as possible by toll free experts. 800 number supplies are at an all-time low and it is speculated that they will only continue to dwindle in forthcoming months. "Many people are finding that their first choice toll free number is already taken when they sign up. We are recommending that anyone who would like a number visits the site immediately in order to secure their number of choice and get the most benefit from their number," says Marshall.
Tollfreenumber.org specializes in assisting small businesses by providing low-cost toll-free phone numbers that require no additional hardware and can be routed to any phone. Businesses can use the company's website to search for available custom phone numbers in the 800, 888, 877, 866 or 855 area codes. The company also offers additional business services through its Virtual Telecenter, which provides 24-hour live answering, among other services. Tollfreenumber.org is based in Irvine, Calif., and was founded in 1999. The company serves more than 100,000 customers throughout the United States. For more information on getting a toll-free customized phone number for small business use, contact Tollfreenumber.org at 1-800-951-9411, or visit the company's website at http://www.tollfreenumber.org.