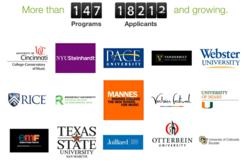 Our expanded suite of solutions absolutely advances our goals by providing more ways for more programs to take advantage of our technologies
Columbus, OH (PRWEB) April 17, 2013
The company that transformed the way performing arts schools recruit and review students – Acceptd – now has developed two new, first-of-their-kind technologies that both revolutionize and expand student recruitment options for theater, music, dance and visual arts programs.
The two new technologies include Acceptd Network, a powerful marketing platform that enables performing arts programs to put their names before tens of thousands of students at no charge, and Acceptd Recruit, which offers clients access to a vast, searchable global database of thousands of performing arts students. The new technologies build upon Acceptd's existing services, which are based on a proprietary web-based platform that streamlines the audition and review processes – and enable the firm to offer a three-tiered suite of solutions to meet the specific student recruitment needs of every performing arts program.
Acceptd Network is the first and only tool of its kind for connecting students with performing arts programs of interest. It works like this: At no charge, Acceptd markets participating programs to its exclusive network of tens of thousands of high school faculty members and arts students in the U.S. and globally. Students identify the programs to which they want to apply and upload their personal information and digital portfolios to Acceptd. Acceptd then notifies those programs that a candidate's information awaits their review.
Performing arts schools that need to go beyond the marketing power of Acceptd Network and directly reach out to and recruit the best candidates for their programs can do so through Acceptd Recruit. For a nominal annual fee, schools can search the world's only online database of thousands of performing and visual arts high school students, from more than 100 different countries. Users can easily filter the database by discipline, interest, GPA, state and country, test scores and expected graduation dates to find the ideal candidates for their programs. Acceptd Recruit automatically includes the Network services.
Acceptd also offers a full-service solution, packaged as Acceptd Partner. This comprehensive service offers the marketing clout of Network and the personal reach of Recruit – and also includes Acceptd's flagship platform for managing application, audition and review processes. With this robust technology, students access customizable applications and upload their personal information and portfolios on a program's branded landing page. All applications are stored digitally, enabling faculty to view, rate and comment collaboratively, in real time – and save a great deal of time in doing so.
"We launched Acceptd to help connect students with opportunities and make it possible for performing arts programs to consider as many students as possible, including great candidates who might otherwise have lacked the resources to gain visibility," said Acceptd co-founder Don Hunter. "Our expanded suite of solutions absolutely advances our goals by providing more ways for more programs to take advantage of our technologies. It is a game-changer for the way schools recruit students."
Hunter and Derek Brown co-founded Acceptd in 2011. The firm continues to build upon its current client base of more than 150 university programs, training programs and music camps both within the U.S. and abroad. More information on Acceptd and its solutions for performing arts programs is available at http://www.getacceptd.com.