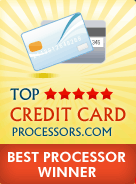 National Processing, a leader in online payment processing, was voted the #1 Automatic Clearing House (ACH) Processor in 2013.
(PRWEB) April 23, 2013
National Processing, a leader in online payment processing, was voted the #1 Automatic Clearing House (ACH) Processor in 2013. Top Credit Card Processors selected National Processing from among thousands of other online payment companies. What does this mean to current and prospective clients? It means that companies who choose National Processing for ACH payment processing, will be utilizing the fastest, most reliable, and most secure system in the industry. The evaluation process for this impressive award was designed specifically to identify companies that excel in their area of expertise. An in-depth assessment looks at how the company works and how it achieves its goals. In the area of ACH payment processing, there are five key areas that are evaluated. Companies that score the highest in each area are selected as the winners.
Reliability—National Processing's service is dependable, efficient and quick. The high standard of service and dependability at National Processing means that the client's ACH processing needs are taken care of while the client focuses on business. Dedicated to giving clients superior service and industry-leading technology, National Processing provides tools to help organizations of all sizes reduce transaction costs, lessen risk and increase productivity.
Security—Work with a company with a proven track record of credibility. National Processing is a nationwide company that is dedicated to protecting the privacy of the client's confidential information by providing the highest level of security. Using online payment processing is the safest and most convenient way to conduct business online.
Ease of Use—National Processing is committed to excellence. Companies who choose National Processing to manage ACH payments are working with a company that understands the needs of a growing business and can provide innovative solutions that are essential to the company's success. National Processing's check guarantee service is quick and efficient—At the point of sale, the clerk simply enters the customer's information and in only a few seconds, the check is authorized. This saves the customer time and it saves the company money.
Volume—National Processing is a nationwide company that is able to process countless transactions quickly. Whether the business processes five or five thousand ACH payments per day, National Processing will handle the transactions without delay. Partner with a company that specializes in providing ACH payment processing services.
Delays in service—today, businesses can't afford to wait while transactions are being processed. At National Processing, ACH payments are processed quickly and efficiently. This means the money is in the company's bank account quicker. As a result, the business runs smoothly and more efficiently.