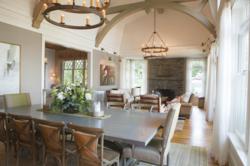 Chicago, IL (PRWEB) May 02, 2013
Heartland Alliance Home & Garden Tour 2013 Set for June 8.
The Annual Heartland Alliance Home & Garden Tour, Saturday, June 8, will give tour-goers a glimpse into eclectic, professionally-designed private homes and gardens and allow them to enjoy the spectacular work of the Midwest's acclaimed interior designers, architects and horticultural enthusiasts within blocks of Harbor Country, Michigan.
Just 90 minutes from Chicago's downtown, southwest Michigan's Harbor Country provides the perfect setting with its rustic country charm filled with sophisticated shops, restaurants and galleries and opportunities for antiquing.
The annual fundraising event for Heartland Alliance begins at Lovell & Whyte in Lakeside at 9 CST/10EST. Guests stop by to pick up their tour maps and their wristbands for the day and start out on a journey of homes and gardens (driving from place to place).
Lunch will be a delicious interlude at Chikaming Country Club in Lakeside (tickets for lunch are an additional $40 and very popular so tour-goers are encouraged to book their ticket early).
After the Tour, visitors are encouraged to recharge their batteries, fill their glass, load their plate and enjoy a silent auction at the complimentary After-Party and Silent Auction at Mickey's Hideaway Bar & Grill in Union Pier. A raffle gives visitors a chance to win a Paris Adventure package that includes airfare and a chic one bedroom/den apartment in the 17th arr. - just steps from the elegant Parc du Monceau and one of the best market streets in Paris, the Rue de Levis.
Proceeds from this spring tradition benefits the work of Heartland Alliance and its efforts to end poverty.
The Annual Heartland Alliance Home & Garden Tour 2013
9:00 a.m. - 5:00 p.m. Central Time
10:00 a.m. - 6:00 p.m. Eastern Time
Harbor Country, Michigan
For more information or to purchase tickets, visit http://www.heartlandalliance.org/howtohelp/events/homeandgarden/.
ABOUT
Heartland Alliance is the leading anti-poverty organization in the Midwest and believes that all of us deserve the opportunity to improve our lives. Each year, we help ensure this opportunity for more than one million people around the world who are homeless, living in poverty, or seeking safety. Our policy efforts strengthen communities; our comprehensive services empower those we serve to rebuild and transform their lives. For more information, visit: http://www.heartlandalliance.org.
# # #
Note to Media: Hi-res .jpg images from 2012's Heartland Alliance Home & Garden Tour are available upon request. Please contact Megy Karydes at megy(at)KarydesConsulting(dot)com or call her at (312) 560-2715.
Media Contact
Megy Karydes
Megy(at)KarydesConsulting(dot)com
(312) 560-2715