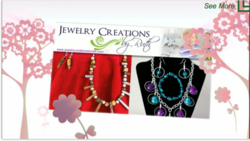 We have beautiful, unique jewelry made from gem stones and glass beads to please any taste and budget
Piedmont, MO (PRWEB) May 17, 2013
Ruth McKee has been making jewelry for her friends for several years. Early on, she decided to take her handmade creations to local craft fairs and flea markets where they quickly sold out. It was then when she thought about selling her unique jewelry online.
Now, five years later, Ruth has launched her online store, Jewelry Creations By Ruth, featuring social video technology that allows her customers to shop from over fifty different compelling designs all inside her online videos.
"I love to create custom beaded necklaces, bracelets and earrings and I have decided to bring my handmade products online. Whether women are searching for blue, purple, or a beautiful red ensemble for an event, Jewelry Creations By Ruth has what they are looking for", said owner, Ruth McKee. "We have beautiful, unique jewelry made from gem stones and glass beads to please any taste and budget. Many designs feature turquoise, Mother of Pearl and Lampwork pieces in a variety of colors" she added.
Besides the inventory available in her online store, Ruth has dozens of other designs available upon request. During the next 60 days, Jewelry Creations By Ruth is offering a special limited time offer with a 10% discount on all purchases.
Find Ruth's online store at http://mycinsay.com/c/jewelry-creations-by-ruth/custom-jewelry.
Contact:
Owner, Ruth McKee
573-223-7630
ruthmckee(at)windstream(dot)net