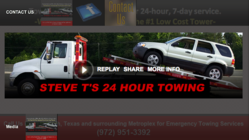 iPhone's SIRI can provide real-time traffic updates via the map feature.
Fort Worth, TX (PRWEB) May 28, 2013
Steve T's 24-Hour Towing has been serving the Fort Worth area for over 5 years. Through the years, Steve has seen it all when it comes to emergencies with motorcycles, cars and trucks. He offers these practical tips to motorists traveling this busy summer vacation period.
1. Get a good night's rest before a big road trip. Many accidents occur every year because the driver is not rested and alert. Scheduling an 8-hour sleep in advance could mean the millisecond reaction time needed to avert a serious accident. Most trips take several hours, so well rested means safer driving.
2. Plan the trip in advance: Make sure all the routes are identified and open. iPhone's SIRI can provide real-time traffic updates via the map feature. Also, check local radio stations for any traffic alerts or outages' due to construction or weather. AM stations are the best bet for this.
3. Rest in between stops. Plan to stop for a quick break every 2 hours. This gives the mind and body a break from the repetitive action of driving. Also, this is a good chance to get some exercise, take a bathroom break, grab a snack and get some air. Taking turns at the wheel is also a good idea to keep fresh and alert.
4. Have your vehicle checked in advance: A road trip is a great time to make sure everything is working properly on your car. Tires' wear and pressure, motor and transmission oil levels, and coolant properly checked and in good order are all things that can enhance engine performance and possibly save travelers from a breakdown.
5. Pack an emergency pack and First Aid kit: Many cars come with necessary tools and some with emergency kits. Make sure to include flashlights, batteries, battery cables, extra coolant along with these. It's a good idea to keep bandages, and even Benadryl on hand in case of an accident or bee sting. Foldable solar panels to charge your phone or GPS are great extras as well.
6. Never text or drink while driving and wear seatbelts: Above all safety rules, these three are the most important when travelling. Most serious accidents in the U.S. are related to text or drinking. Don't expect the air bags in the car to provide safety in an accident. Seatbelts are a must and can save ticket costs as well.
Steve also added that his company's services start at only $55 per call and they provide the safest transport available for your vehicle.
"Our fleet consists only of flatbed trucks (also known as rollback trucks), which allows us to safely tow everything from motorcycles to ¾-ton pickups. Whether you are broken down on the side of the road or simply stuck in the mud, we've got your car, truck, or motorcycle covered," said Steve.
Find out more about their 24-hour emergency services of roadside assistance, towing, jump-starts, or tire changes at Steve T's new link http://mycinsay.com/c/steve-t-towing/towing-services
Contact: Steve Torian – 972-951-3392