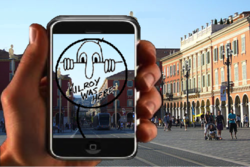 Digital Graffiti in the Place Mozart deployment is a fun creative way to connect with fellow countrymen and other nations without becoming a felon by spray painting or carving your initials into a tree, wet cement or a bathroom stall.
(PRWEB) May 31, 2013
Cisco Systems, the networking giant, and GeekGaps.com have collaborated to bring "Digital Graffiti" to the public. Using the open Wi-Fi pilot in Nice, France, a smart city demonstrator, Digital Graffiti will go live on June 17th, 2013. Digital Graffiti will showcase the benefits of location based free Wi-Fi by allowing iPhone/iPad users to create graffiti messages for others to view and comment on when they are in range of the message.
In Place Mozart and Bd Victor Hugo (a large tourist area in Nice) Digital Graffiti messaging will allow people from different countries to discover messages either left behind by their fellow countrymen or any country of the user's choosing. Digital Graffiti will also be introduced at the Innovative City Convention on June 18th & 19th, positioning it for additional smart city deployments.
Anyone with an Apple iPhone or iPad can create or view a graffiti message at a particular location covered by the free Wi-Fi pilot (Android devices to be added later). With the free service, users can create one message per day (each message lasting a period of 7 days), choose the size and distance the message is visible (starting from 5 meters to 200 meters), and are alerted by email of how many people viewed their message. Premium features will allow graffiti authors to create additional daily messages as well as change the size, coloring, shelf life, and height of the message. Additionally, the premium service allows future decoration capabilities of the message remotely, which will include decorating it like real graffiti with graphics. The graffiti message can be placed anywhere within the free Wi-Fi outdoor space allowing others to see it when they walk within range of the message.
Mina Dillard, artistic director and co-founder of GeekGaps.com says, "Digital Graffiti in the Place Mozart deployment is a fun creative way to connect with fellow countrymen and other nations without becoming a felon by spray painting or carving your initials into a tree, wet cement or a bathroom stall."
In the near future, Digital Graffiti will also be available anywhere in the world that is location enabled by Cisco's Wi-Fi – outdoor or indoor. Cisco is the leader in the Wi-Fi market. Users will be able to leave messages for their colleagues, roommates, professors, family or anyone.
To leave a message, the user aims the iPhone/iPad, where the message is to be left (Place Mozart, colleague's cubicle, dorm room door, professor's office, airport terminal, amusement parks, retail stores, restaurants etc. . .) The graffiti author then simply enters his message. He selects the size, color, graphics and delivery confirmation. Also, unlike a yellow sticky note or traditional graffiti message, Digital Graffiti can be private; the user can select the recipient(s). If desired, the author of a message left for more than one person can receive separate notification when each recipient has viewed his message. For example, "Janice, congrats on your new baby girl!", can be viewed either by Janice, a select few or anyone.
When a recipient walks near a graffiti message, it triggers a chime on his iPhone/iPad; the augmented reality application allows him to view the message by simply holding up his iPhone/iPad. Digital Graffiti can also be leveraged as advertising in new and creative ways, especially since the location capabilities are built into the network and don't drain your iPhone's battery like GPS.
This space is heating up with the recent acquisitions: Apple acquired WifiSLAM and Aruba Networks acquired Meridian in the last few months. They provide turn-by-turn directions on mobile devices in indoor Wi-Fi locations, solidifying that location proximity is the next trend in Wi-Fi.
Peter Michael Gits, Digital Graffiti inventor, Cambridge University Judge Business School accelerator member and co-founder of GeekGaps.com, says, "This is just the beginning of location proximity and what we can do. If you have ever visited another city, you probably have experienced the frustration of sub-optimal internet-connectivity due to the mobile service providers not having proper bandwidth coverage with 3G and 4G plans. And if they do have connectivity, the price is prohibitive when roaming. However, now that city officials worldwide acknowledge the increased demand and necessity for free Wi-Fi and its benefits, they are rapidly opening up Wi-Fi broadband connectivity, which leaves innovative mobile service opportunities like Digital Graffiti wide open. And presently, there is nothing else out there like Digital Graffiti. It is unlike any other messaging site."
GeekGaps.com is now offering limited non-equity royalty shares for Digital Graffiti's profits for a period of 7 years from the first deployment. Up until June 17th, 2013, individuals interested in getting a share of the profits can invest as little or as much as they want to help GeekGaps.com complete the premium features of this soon to be global app. To find out more about how to get involved and share the profits, follow the link to Digital Graffiti royalty shares.