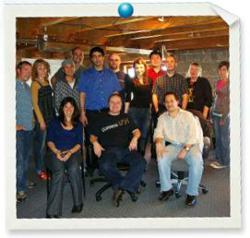 We have given the average person the power of online fundraising and professional event planning which results in raising more money for any cause and increasing attendance at every event
(PRWEB) May 07, 2013
MyEvent.com, the leading provider of do-it-yourself event websites, is proud to announce that their ecommerce integrated event websites have allowed more than 100,000 customers raise over $25 million in ticket sales and donations over the past 11 years.
MyEvent.com offers individuals, businesses and non-profits a website builder to facilitate selling tickets and accepting donations online. There are also tons of features to help plan and promote any type of event including individual and group fundraisers, reunions, corporate events, personal celebrations and much more.
According to company president Rob Hirscheimer the convenience of being able to purchase tickets and donate online quickly and easily with a credit card increases the amount of contributions and level of attendance at any event. "We have given the average person the power of online fundraising and professional event planning which results in raising more money and increasing attendance at every event".
MyEvent.com is made for regular people who have no special skills so it is easy to use and very fast to implement. After starting a 7 day free trial the user's website is live in seconds and then they can quickly and easily add content. The built-in features make communicating with guests and potential donors a breeze.
In addition to helping registered non profits raise money for any cause, MyEvent.com is the only company that offers personal and team fundraising pages for causes that are not registered charities. Acccording to vice president and co-founder Mark Goldenberg, events are often planned for individuals in need of financial help due to illness or for any other cause. "MyEvent allows individuals to create an event such as a walk o thon where friends and family can participate and reach out to their social networks to help support their friend or relative in need."
MyEvent.com also has features to help spread the word about an event. The best and most cost effective way to build awareness for any cause is by using the power of social media. MyEvent.com websites come with tools that allow anyone to easily share and feature their event on various social media sites.
Being able to promote an event on Facebook, Twitter and LinkedIn will drive more visits to the event website leading to more ticket sales and donations. With the ability to tweet and post interactions on Facebook automatically the organizer can create more interest and excitement which attracts more potential donors and guests to the event.
Over the past 11 years online, MyEvent.com has had the privilege of working closely with thousands of clients allowing the company to learn all of the secrets behind planning a successful event. These findings have been compiled into a free fundraising eBook that offers helpful tips and guidelines to plan a fun and well attended event. This Fundraising 101 eBook contains everything anyone needs to know about planning a fundraiser, including:

50 fundraising Event ideas
How to make a website to fundraise online
Tips to increase attendance
How to get more sponsors
Timelines and so much more!
To download a copy of this free resource click here:
About MyEvent.com:
MyEvent.com has been offering affordable, easy to use event websites to individuals, corporations and non-profit organizations since 2002. MyEvent.com also offers customized solutions and designs for special events. For more information, visit MyEvent.com to start a 7 day free trial. To see a movie about MyEvent.com click here.