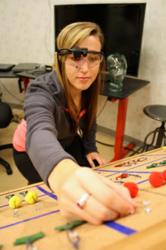 Researchers use the eye tracker to determine how children shift their attention...
Bedford, MA (PRWEB) June 18, 2013
Researchers from the Buckeye Language Network (BLN) at Ohio State University (OSU) are using eye tracking as part of a unique exhibit at the Columbus Center of Science and Industry (COSI) museum. The ASL Mobile Eye-XG eye tracker is featured in the OSU "Language Pod", a working research lab at COSI dedicated to the study of language and the dissemination of knowledge about language sciences to museum visitors. Created in a close collaboration between OSU and COSI, the OSU Language Pod is one of a few working "Labs in Life" research spaces embedded in the museum's science and life section. The COSI science museum is the only science museum in the country to have working research laboratories as exhibits.
In the Language Pod, BLN researchers use the wireless ASL Mobile Eye-XG to study language development in children, specifically various facets of language acquisition and language processing. Laura Wagner, associate professor in the OSU Department of Psychology, said that "researchers use the eye tracker to determine how children shift their attention as they listen to spoken language during real-world tasks. Researchers can measure increases in children's processing speed and efficiency as their linguistic and cognitive skills develop with age."
Shari Speer, professor in the OSU Department of Linguistics, added that "researchers in the Pod also study how adult and child listeners use prosodic structure, or the 'melody in speech' as they produce and comprehend spoken language. Museum visitors participate in experiments where they follow verbal instructions to complete tasks using real-world objects. The intonation of the instructions is manipulated, and researchers assess the resulting language processing complexity by measuring the lag between the intonational change in the instructions and the time to fixate a mentioned object."
The wireless ASL Mobile Eye-XG eye tracker enables Ohio State University researchers to easily interact with museum visitors because it is durable as well as portable. The eye tracker provides highly accurate point of gaze information as visitors (participants) view their environment. The lightweight glasses support two digital high resolution cameras, one that records the scene image and the other, the participant's eye. To view a video of the Mobile Eye-XG in action at COSI, please click here.
Describing her experience with ASL and ASL's Mobile Eye-XG eye tracker, Professor Speer said "I chose ASL as an eye tracking vendor initially (twelve years ago) for three reasons: First, the company has a strong reputation for reliability, accuracy and superior technical support. I have not been disappointed. Over the years, the ASL staff has helped our lab members with novel experimental equipment configurations for our basic research work. They've helped us with everything from providing on-site training with the equipment to giving technical backup as we create novel software interfaces and data analysis routines. I found the ASL Mobile Eye-XG to be the eye tracker of choice when we needed a lightweight tracker that could be used with people of all ages, with and without eyeglasses, for experiments that involve tracking the eyes while the subject moves and speaks during language experiments in real-world contexts."
Applied Science Laboratories (ASL) in Bedford, Massachusetts, is the recognized authority in the field of eye tracking technology. The Mobile Eye-XG and a comprehensive EYE-TRAC® suite of versatile solutions designed and manufactured by ASL are used worldwide in academic research, market research and industrial markets. ASL's innovations include: desktop optics with head motion compensation, eye/head integration, long range optics for fMRI and revolutionary data analysis options. With dynamic, scalable and innovative solutions delivered with world-class customer support, ASL continues to be the complete eye tracking hardware, software and professional services provider. Visit http://www.asleyetracking.com
COSI is Columbus' dynamic hands-on science center and was recently named the #1 science center in the country by Parents Magazine. Since 1964, COSI has engaged with over 30 million people from all 50 states and around the world, both on-site and through its award-winning outreach programs. COSI features more than 300 interactive exhibitions and over 100,000 square feet of exhibit space, a 7-story Extreme Screen Theater with the largest screen in Ohio, an outdoor science park, a special area for tiny explorers ages 0 through Kindergarten, and the country's only high-wire unicycle. COSI also offers a variety of special events, family programs, camps, and more. Visit http://www.cosi.org
The Ohio State University (OSU) offers a diverse range of experiences for graduate students interested in pursuing a career in the language sciences. With over 60 faculty engaged in language-oriented research, OSU graduate students can choose from a wide array of programs, courses and research opportunities both within and across fourteen academic departments in the Colleges of Arts & Sciences and Engineering as well as the School of Education. The Buckeye Language Network (BLN) fosters language-related initiatives in research and curriculum at OSU, and encourages interactions among faculty, scholars, students and the community. Visit http://www.osu.edu