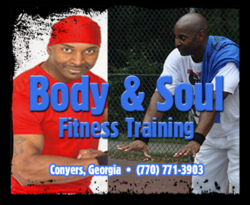 Lil Man Workout' is a fun how-to program with simple exercises for kids. It's designed to educate and motivate the youth of today
(PRWEB) June 25, 2013
Certified Professional Trainer, Vernard Jones, of Body & Soul Fitness Training, knows that kids in the U.S. need to eat right and exercise more. He is so passionate and dedicated to making sure children are healthy that he created the "Lil Man Workout" training program and DVD.
"Lil Man Workout' is a fun how-to program with simple exercises for kids. It's designed to educate and motivate the youth of today. Kids between the ages of 6 & 12 are our target group. Those are the golden but neglected years for exercising and being health conscience," said Jones.
In fact, from a 2012 study by the Food Research and Action Center, over 32% of kids in those age groups are overweight. Studies also indicate they are more at risk for diabetes and other health related problems.
Jones added, "We are very excited to promote this great and wonderful workout DVD for kids; they are going to love it, and the parents will love it. This program has great tips on getting in shape. So, lets get involved and be part of this movement, and get our country back on the right track - to great health!"
Learn more about Body & Soul Fitness Training and the "Lil Man Workout" routine by visiting http://www.mycinsay.com/c/body-and-soul/fitness-training
Order the DVD now and for a limited time, receive a special gift as a 'thank you' for your purchase.
Contact: Vernard Jones at 770-771-3903