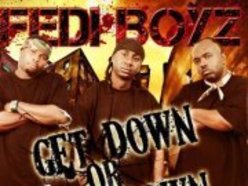 Their first song, "Donaldsonville", put them and their hometown on the map.
Donaldsonville, LA (PRWEB) June 04, 2013
The Fedi Boyz have kicked off their own EP of Rap music under their own label and have launched a marketing and promotion campaign to get their music distributed. The artists hit the scene in 1999 with their song, "Donaldsonville", which put them and their hometown on the map.
The group is composed of H.K. (Freestyle Assassin), Raw (Ready Anytime for War), Headman (The Game Giver), and Sleepy Eye (King of the Hooks). "We do all of our own song writing, music composing, and producing," Said songwriter, Headman. "We are just basically searching for the right distribution deal to market and promote our material", he added.
The group has released three new tracks online and on Reverbnation. "I Get Dumb" is dark, and catchy track. "Walter Mac (Ya Dig)" has an addictive bass and lyrics. "Whipped Up" is their first music video, shot on location in Louisiana. "Our songs are composed of different situations and points of views where we only express our feelings and give our honest opinions about different topics".
In addition to create new music tracks and playing live shows, the boys are producing an album along with mix tape releases and at the end of this summer, they are launching a Fedi Boyz clothing line.
Listen to their new tracks on MyCinsay and check out their Reverbnation and Facebook pages to follow their cross-country progress..
Fedi Boyz Muzik: http://mycinsay.com/c/fedi-boyz-muzik/hip-hop-group
Contact: 225-413-5107 or by email hcayette(at)gmail(dot)com