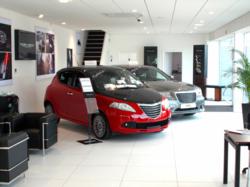 We're all hugely delighted by the addition of Chrysler and Jeep
Thorne (PRWEB UK) 28 June 2013
Both new car franchises will Join Fiat at the groups newly refurbished showroom on Newark Road in Peterborough and will bring the number of franchises represented by the 29 site motor group up to 14.
Finishing touches are currently being added to the £150,000 make over which has transformed the dealership in to a light, clean, clear and contemporary space with striking white walls and floors. The official launch event will take place on the weekend commencing the 28th of June.
Stoneacre's regional manager responsible for the two new car franchises, Shaun Brookhouse commented: "We're all hugely exited by the addition of Chrysler and Jeep, it's great news for Stoneacre and should further strengthen the diverse lineup of new cars offered by the group. The addition of Jeep also enables us to further expand in to a lucrative premium market and we look forward to a long and successful relationship."
The addition of the two new car franchises is the first since the group's 2012 acquisition of John Drake LTD Volvo in Lincoln and John Morris Motors Volvo in Grimsby which added the first premium brand to the groups lineup.
"Nigel Land, Head of Brand Jeep Chrysler commented "Stoneacre are a great addition to our expanding network giving us excellent representation in the Peterborough area. With the launch of the new Grand Cherokee just around the corner this is truly an exciting time to join the Jeep and Chrysler brands and we look forward to a successful future with Stoneacre."
Offers from the Chrysler and Jeep new car franchises are to be displayed on the companys website http://www.stoneacre.co.uk with immediate effect.
--ENDS--
Website: http://www.stoneacre.co.uk
Twitter: @stoneacremotors