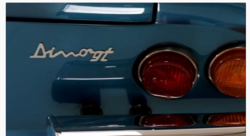 My shop was originally just a hobby shop for my own projects.
Escondido, CA (PRWEB) June 21, 2013
Jon Gunderson has a passion for cars and a hobby restoring classic Ferrari Dino model autos. He has now turned that passion into a business and has announced expanding the marketing and commerce for Dino Restoration online. Within a short time, Jon's restoration has become known as one of the finest and most meticulous Dino Ferrari restorations in the region.
The Dino Restoration story began eight years ago when Jon Gunderson and his son, Jeff Gunderson, restored a Ferrari Dino simply for fun. After Gunderson's second Dino restoration, word of his exceptional car refurbishing began to spread among exotic car enthusiasts and collectors.
"My shop was originally just a hobby shop for my own projects," said Jon Gunderson. "Even though I began doing extremely high quality restorations for others I still consider it a hobby and not work," he added.
Dino Ferraris were once known as the "poor man's" Ferrari because they were 6 cylinder vehicles and were rarely maintained well. The cars were also prone to rust. Due to this, and the fact that Dinos are 40-year-old vehicles, every restoration is a challenge. Gunderson and Dino Restoration embrace the task of doing complete nuts and bolts restorations and are committed to restoring a car that is recognized by the Ferrari community as one of the most beautiful models ever designed.
The Dino Ferrari was created to be an affordable sports car that was built to honor the son of Ferrari's founder. Gunderson feels lucky to have been naturally drawn to Dino Ferraris, which have gone from an "affordable" sports car originally valued at less than $20,000 new, to well over $400,000 each.
Dino Restoration has launched a new online video store through Cinsay that not only offers Dino restoration apparel and merchandise through Cinsay OnDemand, but also allows customers to purchase the branded apparel while watching detailed time-lapse videos of Dino Restorations at work.
Demand for exotic cars is increasing as even Hertz Rentals announced this week they are adding Ferraris and Lamborghinis to their rental inventory. Dino Restoration is taking advantage of that kind of demand by providing exceptionally specialized work for the Dino market. Jon Gunderson added, "I get tremendous satisfaction by putting these beautiful timeless machines back on the road."
To visit their new video store and to see some of their work visit Dino Restoration at: http://mycinsay.com/c/281248cc-b298-4ef5-b396-8b59be80bba9/dino-restoration.
To see current projects as well as past projects, visit Dino Restoration's website: http://dinorestoration.com/.