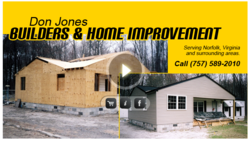 Our passion for excellent craftsmanship and construction have motivated us to create and design the best for our customers
Norfolk, VA (PRWEB) June 06, 2013
Don Jones, founder and owner of Don Jones Builders & Home Improvement, has been in the home building and home improvement business for several years. Over the years, he has seen all types of requests for projects from adding a garage, game room or sunroom to building a brand new house from scratch.
"Our passion for excellent craftsmanship and construction have motivated us to create and design the best for our customers. We work on all sized projects, from small to large and all assignments are equally important to us", said Jones, founder and owner. "Our passion for excellent craftsmanship and construction has motivated us to add value and beauty to each home", he added. Jones also shared these tips for homeowners when considering improvement projects.
1. Think about how the new space with work with the older areas. The best thing when making any addition is to consider how the new square footage will work and look compared to existing rooms. The room's flow, access and usability are all important issues, especially since the homeowner will be living with the change for the rest of their time in the home. Architecturally, the new addition should also blend in seamlessly and compliment the existing structure.
2. Consider the cost and what value it will add. Without proper planning and consideration, the cost for an addition or remodel can quickly exceed the actual increased value of the property. If a room addition will cost $88,000 but will ultimately only add $50,000 in additional home value, owners may want to review their plans. Some construction changes will have considerably different effects on the net value as well. As a percentage of cost vs. investment value, Kitchen projects provide the best return and value. On average, pools have the lowest return on investment.
3. Choose a contractor carefully: Before jumping into a big home project, owners should consider several issues and choose wisely before hiring a contactor for the project. A good homebuilder will have references, several years of experience and have experience in working on your specific type of project. Also, don't assume they are reputable just because of a good Better Business Bureau rating. Good contractors will also listen to you and understand exactly what you want created, provide you a specific list of costs and a complete timetable as well.
Don Jones Builders & Home Improvement meets the list of criteria for a qualified and reliable contractor. Jones added, "Please call me if you're planning any additions or remodeling in the Norfolk area. I will not let you down."
Learn more about Don Jones Builders & Home Improvement by visiting their new online video store http://www.mycinsay.com/c/don-jones-builders-and-home-improvement/house-builders
Friend them on Facebook at https://www.facebook.com/pages/Don-Jones-Builders-Home-Improvement/360007460783359
Media Contacts:
Don Jones – 757-589-2010
Donjones1949(at)gmail(dot)com