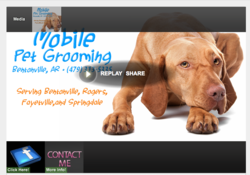 Just on boarding and grooming alone, Americans spent over $4.1 billion.
Bentonville, AR (PRWEB) May 30, 2013
Amber M is an experienced Vet Tech and Pet Groomer, she also knows people love their pets. That's why she's dedicated to building her business around pet care and grooming. Amber's new Mobile Pet Grooming (MPG) offers a full-service grooming at the homes and businesses of dog lovers.
Last year alone, people spent nearly $54 billion on all things related to pets. Just on boarding and grooming alone, Americans spent over $4.1 billion.
That's a lot of money to keep Fido happy, so MPG takes their services and furry clients seriously when it comes to grooming. They also take the hassle out of transporting pets by bringing the grooming directly to pet owners; making grooming a more personal experience. Each groom includes ear cleaning, bath, nail clipping, nail grinding, and a shampoo. Based on each pet's needs, MPG can also provide a conditioning rinse, hair clipping, and styling, complete with blow out. Amber also offers these quick tips when caring for your pet this summer:
1. Exercise: During the hot summer months, schedule your dog's walks in the morning or late afternoon when it's cooler. The hot pavement may not feel that bad to shoe-wearing humans, but it can burn the pads of dogs' feet.
2. Water: Make sure your pet has plenty of fresh water. Dogs don't sweat and can only cool themselves by panting and this can make them dehydrate faster. Keep a dish of water outside and inside as well.
3. Digging: Many breeds will dig in your backyard during hot days. They do this naturally to find a place to keep cool. If possible, find an appropriate place in your yard where they can practice this trait.
4. Cars and trucks: Never ever leave your pet in a hot car – especially with the windows up. Even in the shade, the inside temperature can rise and cause anxiety for your pet thus creating even more dehydration.
5. Kiddy Pools: Dogs as a rule, love water. The best way to keep an outside pet cool is to halfway fill a small kiddy pool with fresh water. This provides a place to cool down, play, exercise and drink from while they are on their own schedule.
Find more tips and information from MPG online and follow them on facebook.
"Mobile Pet Grooming is available at a reasonable low price. The sales tax is included, and owners don't need to provide vaccination verification when we come out," said Amber, owner of MPG. In Arkansas, Amber's company serves the towns of Bentonville, Rogers, Fayetteville, and Springdale.
Find out more on MPG by visiting their online store at:
http://mycinsay.com/c/mobile-pet-grooming/grooming-promo
Contact: Amber – 479-313-5335 to schedule an appointment