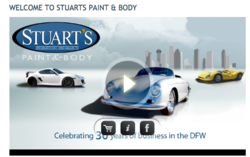 It took triple the time we anticipated to accomplish the work
Dallas, TX (PRWEB) June 10, 2013
Dallas based Stuart's Paint and Body Shop has been the 'go to' team for precision body shop and paint work for exotic and classic cars for years. In fact, his company is the preferred repair shop not just for serious exotic and vintage car collectors around the U.S. but also for companies/dealerships like Boardwalk Maserati, Lamborghini, Ferrari, Porsche Plano and Fiat of McKinney. Other custom firms include: Dallas Performance, Euro Sport, RAC, Twenty-First Century Muscle Cars, Corvette Corner, and Bennett Motor Cars. But this Monday, Stuart and his team will be part of Discovery Channel's highly rated reality TV show, "Fast N' Loud".
"We got a call and realized there was some unique projects we could work on together with the Gas Monkey Garage guys here in Dallas, and it all came together really fast", said Stuart Singer, founder and owner of Stuart's Paint & Body Shop.
That project turned out to be a really huge and expensive opportunity. "It took triple the time we anticipated to accomplish the work", said Stuart. The new season premiere will have both shops, including Ferrari mechanic M. Luongo, working furiously to restore a very rare Ferrari F-40. The problem looming before them; it has been in quite an extreme accident and it will take every resource and some 'out of the box' thinking to make it all work.
Before filming the show, Stuart met the Gas Monkey Garage crew - including founders Richard Rawlings and Aaron Kaufman - through the social and mobile video ecommerce company Cinsay. Both businesses host exclusive video through the company where they also sell merchandise, showcase their work and other offerings inside the player. Cinsay On Demand also creates their collective apparel and fan-gear. "Cinsay handles all our video, promotion and branded merchandise so we can stay focused on our business and doing what we do best", added Stuart.
The new season premiere of "Fast N' Loud" airs Monday, June 10, 2013 on the Discover Channel at 9:00 PM ET/PT.