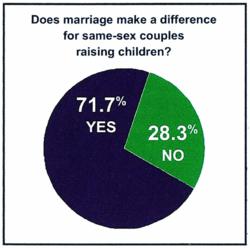 Marriage absolutely makes a difference for same-sex couples raising children, stated one survey respondent.
Boston, MA (PRWEB) June 18, 2013
June is Gay pride month. Those interested nationwide are waiting to see if the US Supreme Court will rule on the Defense of Marriage Act (DOMA) case (United States v. Windsor) this month before the end of the current term. As Washington Times writer Susan Ruth wrote on May 28, 2013, " SCOTUS opinions are usually released Tuesday and Wednesday at 10 a.m. The Court will alert the public if it is planning to release opinions, but the specific case names and docket numbers are kept secret until the formal announcement. Due to those blockbuster cases this year, there will be extensive media coverage and live on-line updates every morning as announcements are made on the opinions scheduled for release."
Describing DOMA, Nina Totenberg of National Public Radio explains, "The law bars federal recognition and benefits for same-sex couples married in any of the states..." United States v. Windsor, Totenberg Berg explains, "...involves a couple from New York, Edith Windsor and Thea Spyer, who had been together for 42 years prior to their marriage in 2007. When Spyer died, however, the federal government, acting under DOMA, required Windsor to pay $363,000 in estate taxes that she would not have owed if her spouse had been of the opposite sex." Totenberg goes on to explain Windsor's argument before the Court that, "The 14th Amendment guarantees all citizens equal protection of the law, and [Windsor's lawyer has argued] that the government has to have "a good reason" for distinguishing between gay and straight couples. Contending that DOMA supporters have been unable to justify treating legally married gay couples differently, she argues that it is unconstitutional to 'allow straight married couples to have all the benefits of federal law and gay couples to have none'."
The lesbian and gay communities have long asserted that same-sex marriage is equal to that of heterosexuals and should be legally recognized. Twelve states in the US have made same-sex marriage legal. These are Connecticut, Delaware, Iowa, Maine, Maryland, Minnesota, New Hampshire, New York, Massachusetts, Washington, Rhode Island, and Washington D.C.
The Lexington, Massachusetts based Reproductive Science Center (RSC) of New England, an assisted reproduction center-of-choice for LGBTQ men and women since 1988, has conducted a survey of its GayIVF.com website and Facebook visitors. The survey asked lesbians and gay men whether the ability to be legally married makes a difference for same-sex couples raising children.
Survey results revealed that an overwhelming majority (71.7%) strongly asserts that legal marriage does matter.
As one respondent stated, "Marriage absolutely makes a difference for same-sex couples raising children. It is public and civic validation of the central relationship in the home. It eliminates separate and unequal status for families with same-sex parents. Though it is not a prerequisite for a healthy, stable family, it absolutely should be an option for all families who desire the additional protection, acknowledgment and substantiation that marriage offers."
A minority of survey respondents (28.3%) do not feel marriage makes a difference. Within this group, one respondent stated, "Love is love no matter if you share a piece of paper that says you are legally married or not."
Does marriage matter?
Out of the 89% of survey respondents who described themselves as "partnered", 49% were married. For the 43% of unmarried (but partnered), 75% stated that they do plan to be married in the future. 22% said they would marry if marriage becomes legal in the state in which they live.
Do you plan to have children in the future?
A third of lesbian and gay survey respondents indicated they already have children. Out of the 67% who were not yet parents, 98% stated that they do plan to have children in the future.
Adoption will be the choice for 13.2%, and 97.4% plan to build their families using some form of assisted reproduction. This would include intrauterine insemination (IUI) or in vitro fertilization (IVF) with donor sperm for lesbians. Gay men wishing to have genetically related children do so using in vitro fertilization (IVF) with donor eggs and a gestational surrogate who carries the pregnancy.
RSC New England is a comprehensive reproductive medicine center. While the majority of its patients are heterosexual couples that are unable to become pregnant due to infertility, the center also provides assisted reproductive services for LGBTQ men and women. RSC New England has provided IUI with donor sperm for lesbian couples since 1988. In 1998, RSC was the first reproductive medicine practice in New England to help a gay male couple have genetically related children through the use of donor eggs and gestational surrogacy. Since then, RSC New England and its medical director, Samuel Pang, MD has become well known for reproductive assistance for male couples.
Dr. Pang, a board certified Reproductive Endocrinologist, also provides what he has termed 'Reciprocal IVF' for lesbian couples in which one partner provides eggs that are fertilized using donor sperm and a resulting embryo is then transferred to the other female partner who carries the pregnancy. More recently, Dr. Pang has also begun providing fertility preservation consultations and services for transgender men and women.
RSC New England is a member partner of IntegraMed Fertility, the largest network of fertility treatment centers in the United States.