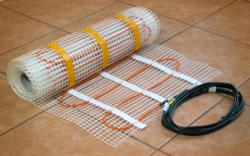 Having a complaint-free year is no small task considering what's involved in any type of building or remodeling project.
Highland Park, IL (PRWEB) June 26, 2013
InfraFloor®, a well-known Illinois-based provider of radiant floor heating, achieved the Better Business Bureau's Complaint Free Award. InfraFloor is known for floor warming systems that provide soothing warmth with healthy, infrared heat waves. With more attention being paid to energy-efficiency, occupant comfort and enhanced building amenities, in floor heat is playing an increasingly important role in remodeling and new building construction.
Having a complaint-free year is no small task considering what's involved in any type of building or remodeling project: tight deadlines, multiple trades, demanding customers and job-site complexities. Everyone acknowledges that building projects present ample opportunities for error, but to make matters more challenging, radiant floor heating is often a last-minute choice leaving little room for planning, ordering or shipping errors.
InfraFloor attributes its success to three things: product education, quality products delivered fast and customer service and support. InfraFloor's user–friendly, informative website helps educate customers about how to select the correct radiant floor heating, how much to order and how-to install in floor heat. InfraFloor's floor warming systems can be installed under almost any floor covering.
All InfraFloor floor warming systems are manufactured in compliance with UL standards and the National Electric Code according to high quality specifications and tested against strict quality controls. InfraFloor keeps all sizes of its in floor heat in stock so materials are ready to ship immediately when ordered. To meet tight project timelines, InfraFloor's online order processing system allows for same day shipping and tracking of in floor heat orders to their final destinations.
Once the product reaches the job-site, InfraFloor's easy-to-understand installation instructions prevent installation errors. Leveraging decades of experience, InfraFloor provides low-cost tools such as its installation monitor with alarm and special plastic trowels to help prevent job-site accidents. InfraFloor also provides innovative floor warming systems that greatly simplify installation since they do not require cement under floating laminate and wood floors.
InfraFloor's sales and technical support people are at the heart of InfraFloor's customer satisfaction, responding to customer inquiries immediately every day. Whether its providing project planning advice or radiant floor heating solutions for unique project requirements, InfraFloor's friendly and knowledgeable sales reps are experienced at dealing with professionals who know exactly what floor warming systems they want as well as home owners who have never before experienced in floor heat. InfraFloor's overall philosophy is to understand what the customer wants and to provide floor warming systems tailored to meet each customer's specific needs and requirements.
When customers need installation or technical support for their radiant floor heating, InfraFloor provides USA-based, toll-free, fast-response technical support, trouble-shooting and problem solving expertise. A 100%/90-day return policy with no restocking fees and speedy processing of returns rounds out InfraFloor's "customer–first" orientation. To learn more, visit http://www.infrafloor.com.