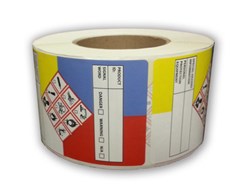 Stop-painting.com's secondary labeling system will help create a clear system that all employees can know and use easily and be completely OSHA compliant.
Wake Forest, NC (PRWEB) December 10, 2013
Last year the Occupational Safety and Hazard Administration updated its Hazard Communication Standard, or HazCom 2012, for all general industries. This update will be required in all workplaces. This update included the Globally Harmonized System of Classification and Labeling of Chemicals, known as GHS, which is applicable for all U.S. industry workers and work places. This new system will allow international consistency within one system. Although training in the new GHS system is required, the current NFPA 704 system can still be used in the workplace. However, there is large margin for error in merging these two systems together.
One example of a significant variation is the difference in the two systems hazard category numerical values. The NFPA 704 system marks health hazards at 3 or 4 for a severe health hazard. However, the GHS system is reversed in that 1 or 2 would be used to indicate a severe health hazard.
With the upcoming change of GHS, each workplace will need to develop a new internal system to help keep communication as clear as possible. All employees will have to be trained in GHS labeling by the end of this year and be able to label all secondary containers based on the new emerging GHS labels in following years.
Considering these upcoming changes, Stop-painting.com is excited to announce their solution to the industry changes with an entire GHS labeling system. This system includes custom designed GHS secondary labels to be used in the workplace. The labels are formatted to allow information from GHS labels to be easily transferred to the secondary label. The labels come with all related pictograms that just need to be checked off based on which chemical is being migrated. There are also areas to include all the necessary information such as the various dangers of each chemicals, and the appropriate safety precautions needed to prevent an accident or reactionary measures needed. Furthermore, the entire label is placed on a NFPA 704 background so employees will always be able to notice the labels which are easy to use with a peel and stick application.
Along with the new labels, Stop-painting.com is also including written and video training to help employers train all their workers easily and proficiently. The written training can be used as a handbook that can be labeled for each company, and these training tools will fulfill OSHA's new GHS training regulation.
Stop-painting.com's secondary labeling system will help create a clear system that all employees can know and use easily and be completely OSHA compliant.
Please visit Stop-Painting.com for complete product information or call 1-866-284-1521.
Stop-Painting.com is a part of InSite Solutions, the manufacturer of Superior Mark tape.
InSite specializes in floor marking solutions that increase safety, organization, and efficiency in the workplace. They offer Superior Mark and a variety of other traffic control solutions for sale on their ecommerce website, http://stop-painting.com.