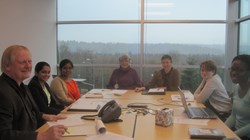 "This will be a valuable set of programs and tools," Dr. Ben Winters, O.D.
Bothell, WA (PRWEB) December 21, 2013
Under the guidance of Professor Bill Erdly, four graduate students in the department of Computer Science and Software Engineering at the University of Washington-Bothell are working with educators in Shoreline and Yakima to develop a teacher-friendly computer tool for vision screening.
Working with Katie Johnson, author of Red Flags for Primary Teachers, Dr. Mary Pellicer, M.D., Dr. Karen Preston, O.D., and M. Helen Spencer of the WA state Council on Aging and former Americorps director in Yakima, Washington, the graduate students are developing software for this project. The UWB portion of the project continues to gain steam as they review existing techniques, technologies, research issues, project planning, and looking at funding possibilities.
Olajumoke Fajinmi, from Nigeria, Sindhuri Bolisetty, from India, Carisa Chang, from the United States, and Harshadar Hole, also from India, are working on the project under Professor Erdly's guidance. They hope and expect to be able to transfer the skills and information of these projects to their home countries after they receive their degrees from the University of Washington.
"These four graduate students are working toward their Masters degrees in computer programming and design by developing these software projects; perhaps 10 - 15 more students will be working on media-related technology design projects connected with this vision screening and vision therapy goal, all starting in winter quarter this January," Erdly reports. Right now they are doing all the necessary leg work and project specification documentation to help launch these projects.
"It may seem counterintuitive to use technology for children's vision issues," comments Johnson, "since too much screen time for young children may be a contributing factor to an inability to focus on and track print." Teachers who want to help children improve as readers, however, need some tools to do this.
Visual acuity, amblyopia, convergence insufficiency -- these are all names for different kinds of binocular dysfunction of the eyes, which means that a child cannot see clearly enough make sense of print. As many as 25 percent of elementary students have some such dysfunction.
Dr. Ben Winters, O.D., a Washington developmental optometrist, concurred by phone with the work described in this meeting. "I am very impressed and excited by your progress so far. This will be a valuable set of programs and tools."
Dr. Maureen Powers of California, Director of the Gemstone Foundation, also spoke to the group by phone.