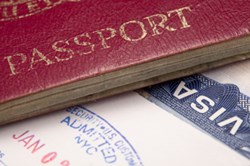 Our IT staff has been working diligently to make this upgrade possible; we are sure the Selection.com client will benefit tremendously.
Cincinnati, OH (PRWEB) December 13, 2013
Selection.com, a leading provider of criminal background check services has recently upgraded their E-Verify system to include the latest features provided by E-Verify. The most significant change is the addition of the employee email address field. This latest enhancement to E-Verify is made possible by the new Employment Eligibility Verification Form I-9. Employees will notice a new optional data field in Section 1 of the revised Form I-9 asking for the employee's email address; this update allows employees to voluntarily provide their email address.
This feature includes the employee in the Tentative Non-Confirmation (TNC) process in a more convenient way. A Tentative Non-confirmation is issued if there is a record mismatch that needs to be resolved before the employee can be confirmed as work authorized. If a TNC is received, employees who have provided an email address on Form I-9 will be automatically notified by E-Verify. The system will also automatically send a reminder email if the employee hasn't contacted the Social Security Administration (SSA) or Department of Homeland Security (DHS) office within 4 days of being referred.
Selection.com President, James Boeddeker stated, "Selection.com is proud to announce the completion of the E-Verify upgrade. Our IT staff has been working diligently to make this upgrade possible; we are sure the Selection.com client will benefit tremendously."
Clients will also notice that the TNC Notice and TNC Referral letter have been combined into one document, the Further Action Notice. According to the Department of Homeland Security website, the Further Action Notice simplifies the TNC communication process by combining the employee's biographical information, the reason for the TNC, the employee's decision to contest and employee instructions for contesting a TNC into a single document. Employers will notice fewer screens to click through resulting in a clearer process and decreased case processing time.
The company's mission at Selection.com is to create evangelical customers among clients that need quality reporting and services by delivering the best service in the industry. They provide that level of service with a combination of their hard working IT staff and their customer support staff who, on average, have been with the company almost 8 years. "Experience means knowledge, and knowledge means we get our clients the answers they need," said Jim Boeddeker, Selection.com's President.
Selection.com was started in 1991 in Cincinnati, Ohio. Selection.com provides a full range of employee screening background check reports including criminal background checks, employment verifications, education verifications, drug screenings and professional license verifications.
For more information on the E-Verify email notification process, please visit Selection.com's blog.
For further questions or to schedule an interview, contact Carl Brown at 513-522-8764.