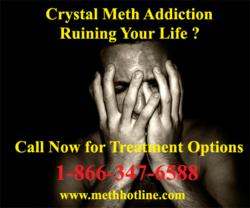 Just wanted to thank you for referring me to a program. I am now 30 days clean!
Seal Beach, CA (PRWEB) January 15, 2013
Prolonged use of Methamphetamine can damage not only the brain but also the lungs, heart, teeth and other organs as well. Eventually the meth user will quickly lose interest in any activity other than getting and using meth. Meth use is so addictive that the user feels powerless to stop. Now there is this new hotline providing help in locating meth addiction treatment. With appropriate treatment meth users can recover from their addiction and begin to live again. The new Meth Hotline can help users find the right treatment facility.
Methamphetamine is a highly addictive, man-made substance that may cause brain damage after just one use. The use of meth causes an enormous release of dopamine in the brain which causes an intense rush of initial pleasure that can last 6 to 12 hours. At the same time it destroys the neurons that produce this chemical in the brain, making it impossible for the user to ever feel that intensity again. The user "chases" that feeling and the addiction begins. Over time the brain loses the ability to feel pleasure or pain as it begins to crave more and more of the substance.
There are treatment facilities that specialize in detox to help the body get clean of the drug, and meth rehab facilities where the meth user can learn the coping and life skills that they need to get drug free and remain drug free. There are outpatient facilities that can help monitor and provide support to deal with the stresses in life that can lead you to be tempted to relapse. The important thing is to find help and begin the process. This hotline can direct the user to one or more facilities that can provide the help they need.
About Meth Hotline
This hotline provides both a toll free telephone number and a website where those suffering from addiction to methamphetamine can learn about meth addiction and the different treatment options available to them. They can begin to confront their addiction and break the cycle to begin to live a drug free life. The toll-free number is answered 24 hours a day to discuss available treatment options so that everyone can successfully fight their drug addiction. Anyone interested can visit their website for more information.