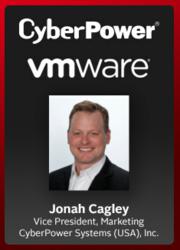 CyberPower is committed to providing IT professionals with the power protection solutions they need for virtual environments
Shakopee, MN (PRWEB) January 18, 2013
CyberPower Systems, a global leader of innovative power protection and power distribution equipment, today announced it has joined the VMware Technology Alliance Partner (TAP) program. Members of the TAP program collaborate with VMware to deliver innovative solutions for virtualization and cloud computing. The diversity and depth of the TAP ecosystem provides customers with the flexibility to choose a partner with the right expertise to satisfy their unique needs.
"We welcome CyberPower Systems as a valued member of the VMware TAP program," said Sheryl Sage, director, Alliance Programs, VMware. "This membership means customers can take full advantage of a streamlined virtualization and cloud infrastructure experience. VMware provides an online marketplace, VMware Solution Exchange (VSX), where customers can learn more about CyberPower Systems collaboration with VMware and our continued goal commitment to developing breakthrough technologies that can transform business."
"CyberPower is committed to providing IT professionals with the power protection solutions they need for virtual environments," said Jonah Cagley, Vice President of Marketing at CyberPower Systems, USA. "As a VMware TAP partner we will be able to keep up with VMware vSphere developments ensuring that PowerPanel® evolves in a timely manner for customers who require virtualization solutions.
The VSX is an online virtualization and cloud infrastructure marketplace that provides customers with a single point of entry to discover, evaluate, and rate business solutions.
CyberPower Systems product information, collateral and other assets are listed within the online VMware Solution Exchange.
With thousands of members worldwide, the VMware TAP program includes best-of-breed technology partners with the shared commitment to bring the best expertise and business solutions for each unique customer environment.
About CyberPower Systems
CyberPower's award-winning global research and development team designs feature-rich power protection products for enterprise, corporate, government, education, small office/home office customers that rely on quality power protection and virtualization products. At company-owned facilities, CyberPower builds uninterruptible power supply (UPS) systems, power distribution units (PDU), remote management hardware, power management software, surge protectors, mobile chargers and connectivity products engineered for performance and to exceed international safety and environmental standards.
CyberPower products are available through authorized distributors and are sold by value-added resellers (VAR), system integrators (SI), managed service providers (MPS), various well-known e-tailers and at select retail stores. CyberPower sells and delivers products through offices and distribution centers located in Americas, EMEA, and Asia Pacific regions.
2012 CyberPower Systems, Inc. All rights reserved. All other trademarks are property of their respective owners.
VMware is a registered trademark of VMware, Inc. in the United States and/or other jurisdictions. The use of the word "partner" or "partnership" does not imply a legal partnership relationship between VMware and any other company.