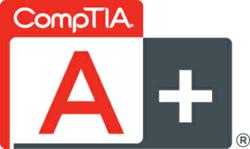 Largo, FL (PRWEB) January 14, 2013
CompTIA recently upgraded their flagship certification -- The CompTIA A+ 800 series -- to incorporate changes in information technology infrastructure and advances that directly affect a technicians job responsibility. Virtualization and Bring Your Own Device (BYOD) are just a couple of the challenges IT shops face in the current business environment, and both play prominent parts in the new CompTIA A+ exams.
"CompTIA continues to raise the bar in IT certification, ensuring its candidates have the skills required to work and succeed in today's computing environment," says ExamForce president Kevin Forcier. "The CompTIA A+ is their flagship certification and one of our most in-demand products."
CompTIA A+ is designed to measure the abilities of IT professionals with at least 12 months of hands-on lab or field experience. The certification consists of two exams: the first exam tests knowledge of networking, laptops, printers and operational procedures. The second exam focuses on operating systems, security, mobile devices and troubleshooting.
The CompTIA A+ 220-801 CramMaster contains over 800 questions. The CompTIA A+ 220-802 contains over 750 questions. Both include exam-quality simulations designed to test the candidates endurance when preparing for the exam. Each module has undergone the rigorous CAQC process and passed, ensuring candidates have the highest quality study material available.
CompTIA is the voice of the world's information technology (IT) industry. As a non-profit trade association advancing the global interests of IT professionals and companies, CompTIA is the recognized authority for IT education and credentials and the primary advocate for IT businesses and workers on a national and international scale. Through its foundation, CompTIA also enables disadvantaged populations to gain the skills they need for employment in the IT industry. CompTIA's vision of the IT landscape is informed by more than 25 years of global perspective and more than 2,700 members and 1,000 business partners that span the entire IT channel. For more information, visit http://www.comptia.org or follow CompTIA on Twitter at http://www.twitter.com/comptia.
About ExamForce
A division of LearnForce Partners LLC, ExamForce was founded in 1999 to assist individuals and organizations with preparing for and passing IT certification exams. Since our inception, our industry recognized materials have assisted countless people in growing their knowledge and advancing their careers. ExamForce develops and sells training and practice test software, audio preparation programs, study guides and flash cards for the Information Technology, Financial and Trade marketplaces.