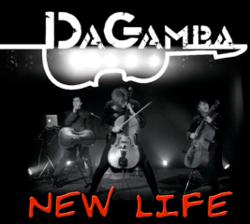 (PRWEB) January 30, 2013
A year ago the new experimental electro cello rock band DaGamba was formed by Richard Cherenkov, Valters Puce and Antons Trocjuks. The band is based in Latvia - the birhtland of talents such as Mikhail Baryshnikov, Dj Lethal (Limp Bizkit), opera singer Elīna Garanča to name a few. Taking the best of academic music and modern electronic music worlds the band spent a year in the studio recording their debut album "New Life".
"We are excited to receive two Latvian Music Awards nominations as it shows that we are heading in the right direction towards a fresh combination of academic and popular music worlds. Recording, mixing and mastering of the album was a challenge because you don't want to loose dynamics of acoustic cello performance and at the same time you want to maintain the aggressiveness of a modern electronic beats, synthesizers, guitars and effects." says ThaLoops.com founder Richard Cherenkov.