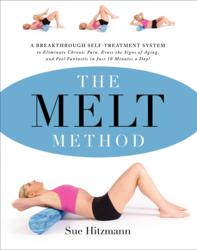 San Francisco, CA (PRWEB) January 22, 2013
January traditionally marks the time of year when people resolve to lose weight and feel great, but what about those daily, nagging aches and pains – the sore back, the strained neck, the persistent headaches – that rob people of truly feeling great each day? In THE MELT METHOD (HarperOne; January 22, 2013; $25.99), nationally recognized somatic-movement educator and manual therapist Sue Hitzmann shares the secret to healthy, pain-free living for anyone with just a few minutes a day to spare.
A revolutionary approach to health and wellness, THE MELT METHOD targets the body's connective tissue, where "stuck stress" from daily living manifests in chronic pain. As a manual therapist, Hitzmann created MELT as the first self-treatment method that simulates the hands-on techniques she uses to help clients living with pain from injury, illness, childbirth, and the repetitive movements of day-to-day living. Through a series of easy, precise movements that use a soft body roller and small balls, MELT works to rehydrate connective tissue and rebalance nervous system regulation, as well as boost the body's natural healing and repair mechanisms.
In THE MELT METHOD, readers will first learn about the four R's of MELT: Reconnect, Rebalance, Rehydrate, and Release. Each R of MELT addresses one of the four areas of stuck stress and is essential to the overall MELT self-treatment plan. From there, the book lays out the various sequences that readers can learn and combine to create MELT maps that address these four systemic effects of stuck stress. MELT sequences and treatments can be tailored for many specific body conditions including:

Arthritis – the MELT Hand Treatment offers immediate relief and greater mobility.
Chronic lower back pain – the MELT Back Release Sequence eases pain without the use of medication.
Digestion or sleep problems – the MELT Rebalance Sequence can improve seemingly unrelated symptoms.
Chronic illnesses – patients suffering with diagnosed illnesses such as cancer, multiple sclerosis, and Parkinson's disease also find relief from the negative effects of medication and the severity of symptoms using MELT treatments.
Hitzmann knows firsthand about pain. When she was in her twenties, she was at the height of her career as an international fitness presenter and instructor, yet she was experiencing debilitating pain in her foot. She found the solution to her pain through the emerging science of connective tissue, or fascia, which surrounds and supports all aspects of the body, including the muscles, bones, nerves, and organs. Hitzmann became a manual therapist and through her personal exploration and private practice, she came to realize that dehydration in the connective tissue was the underlying cause of the daily aches, stiffness, and strain that led to pain, as well as weight gain, sleep problems, and many other common issues.
To date, MELT has helped more than 50,000 of Sue's students, clients, and customers avoid surgery, shed excess body fat, regain mobility and flexibility, and even progress from "bad knees" to marathon training. Hitzmann has trained over 500 instructors who are currently teaching MELT across the country. With THE MELT METHOD, now anyone can benefit from the same techniques that have made MELT a red-hot word-of-mouth.
SUE HITZMANN, MS, CST, NMT, is a nationally recognized somatic-movement educator and manual therapist. Her decades of practice, research, and study of connective tissue science and complementary therapies have culminated in the creation of the MELT Method, a revolutionary approach to pain-free fitness and longevity. She lives in New York City. Learn more at: http://www.meltmethod.com