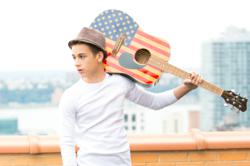 I really want to be known for my music and the feeling I give people, which is to relax, let go and just have fun.
New York, NY (PRWEB) January 01, 2013
Up-and-coming Pop artist Jeremy Fernandez is making his presence felt on radio airwaves throughout North America with his hit debut single "Miss America" featuring Ben J. of the hip-hop duo New Boyz. The single, which was officially released November 13, has already garnered Top 40 rotation in several radio markets, giving Jeremy's fresh music career a boost while he finishes his new album.
Jeremy Fernandez is a professional actor-turned-singer with dozens of film and television credits he has accumulated in his career – and he's only 14 years old. Jeremy is a New York-native born in the Bronx on December 18, 1997, who displayed outstanding acting talent as a child, which inspired him to venture into entertainment. He is also an accomplished guitar player with an ambitious zest for sharing his musical talents with the world as he focuses on his music career. Jeremy points to Gavin DeGraw, Usher, Adam Levine and John Legend as artists who shaped his desires to become a Pop artist.
"I have very big dreams and I'm looking forward to every success I earn along the way," he said. "I really want to be known for my music and the feeling I give people, which is to relax, let go and just have fun."
Jeremy, along with Ben J. of New Boyz, wrapped up production of his music video for "Miss America" earlier this month in Miami. "Miss America" is the first of several singles to come from Jeremy before his album is released next year.
"It was a great experience, having fun on the set with Ben J. We always have a good time, which is why we work well together in the studio," Jeremy said.
Before Jeremy's debut music video is released next month, a preview of his new single "Miss America" can be found on http://jeremyfernandez.com/. Some of the stations where his single can be heard includes KFRH-FM in Las Vegas, KREV-FM in San Francisco, KRCK-FM in Palm Springs, WZMX-FM in Hartford, WWKX-FM in Providence and KHTT-FM in Tulsa.
For more information about Jeremy and to listen to the "Miss America" single, visit his website at http://www.jeremyfernandez.com or follow him online at Twitter.com/JeremyFernandez. An inside look at the making of "Miss America" can be viewed on YouTube at
http://youtu.be/ReWgfEGOLYo.
For booking appearances or performances, please contact Red Entertainment Agency at info(at)redentertainment(dot)com or call (212) 563-7575.
For Media and Interviews, please contact:
Yvette Morales
YM & Associates
PR | Marketing | Branding | Business Development
California | New York
949.244.9769 | 310.499.0906 Fax
YMoralesY(at)YM-PR(dot)com
YM-PR.com
Twitter: @YMTheBevHillsPR